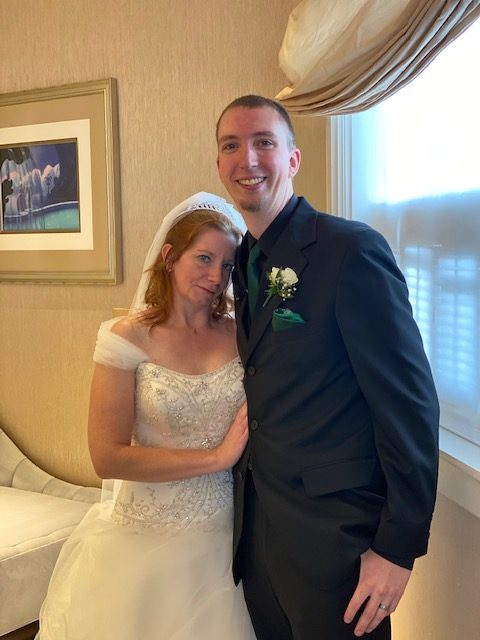 At Work
Their Story
Erin and Timothy met through mutual friends at work.  In fact Erin was Timothy's supervisor for a while  Their work relationship became a deepening friendship and as they later went on different career path, that friendship brought them back together and became love. One of the many loves they share is a love for Disney.  Even though they live in Washington state Erin knew, the moment Timothy proposed that she wanted to get married at Walt Disney World, in Orlando, Florida.  They wanted their wedding location to be at the Disney Wedding Pavilion.  There on the shores of the Seven Seas Lagoon they were going to tie the knot and have their happily ever after.
Their Team
Vita with Disney Fairytale Weddings was their coordinator.  She made sure to take care of every detail for the wedding day.
Amy with Disney Fine Art Photography captured every moment of the couple's wedding day.  From getting ready photos in suite, formal portraits on the staircase of the Grand Floridian, on through the ceremony and reception.  She captured it all.
Wanting their ceremony to be uniquely them, Erin and Timothy met with Rev. Glynn Ferguson from Sensational Ceremonies on a planning trip to Disney in the Fall.  There in the lobby of Coronado Springs they mapped out what they were looking for in their ceremony.  Rev. Ferguson is an official Walt Disney World Wedding Officiant and walked them through a ceremony planning kit, so they could put together the ceremony they always wanted.  He also gave them a homework assignment to write and tell him why they love each other.  

Erin wrote:I love Timothy for countless reasons; there are probably reasons I don't even know yet. What I love most about him is that while he maintains a tough exterior, he is the most thoughtful, caring, and generous person I know.  He is argumentative and opinionated, and he never waivers from his convictions. Faith guides him and he becomes a better man every day.  With Timothy, good is never enough.  He strives for everything to be great; my happiness, our home, our many trips, and ordinary days. I love Timothy because he knows I'm not as strong as I think I am, and he is always there to protect me and take care of me.  He is a comforting shoulder and a listening ear on even my worst days.  He holds my hand, and I know I'm safe.  He kisses my forehead, and  I am at ease.  He never fails to make me laugh, and makes me happier than I ever knew possible.  Even though we play Mini-Golf as seriously as the Master's, he "doesn't see" my quadruple bogey.  He makes me feel special and important.  He always said he had two emotions; frustrated and hungry, but there hasn't been a moment when I don't feel his love for me.
Timothy wrote:  "I'm not very good about expressing my feelings.  But here I go.  I love Erin because of her heart.She is so full of love whether it's the smallest of animals in the yard or the daunting task of me on the days I am hard to get along with.  She instills in me the desire to be a better person, a better man.  She comforts me when I hurt, cheers the loudest for me at softball, supports my long hours at work without a whimper, and even though she is the strongest and most independent woman I know, she still needs me to do the same for her.  Oh, and the love of sports and Disney helps a lot too."

What a wonderful couple to work with. We wish you happiness for a lifetime!