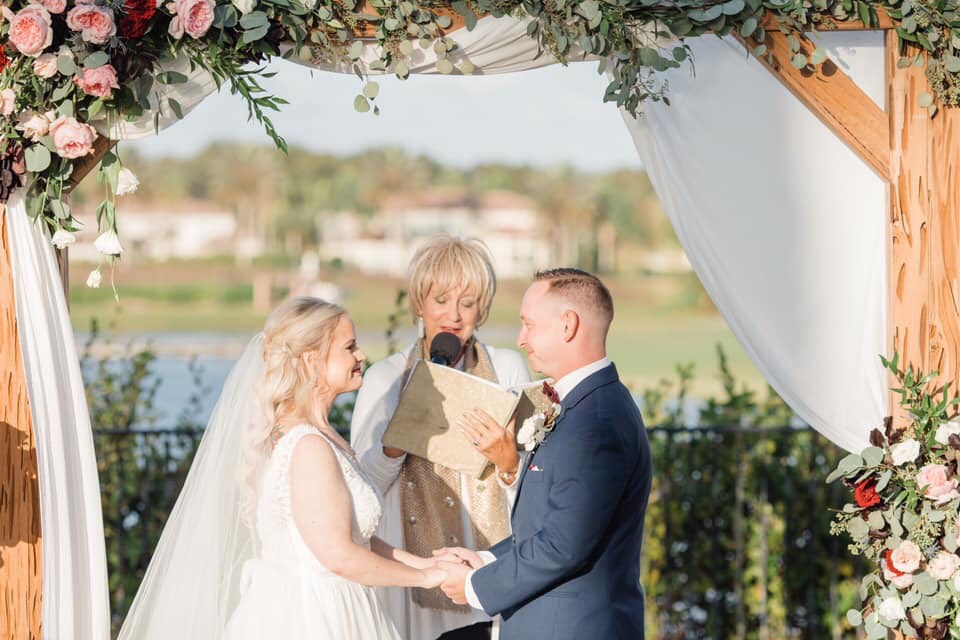 Love from Afar
With Groom Andrew gone for months at a time in service to our nation, wedding planning was often long distance with beautiful Bride Jennifer. Their love blossomed from afar through getting to know each other through frequent emails and calls as they were often separated by thousands of miles. But with their wedding vows, they confirmed their hearts are always as one even when their hands are not embracing.
When Andrew piloted helicopters in foreign lands, he often thought of Jennifer and how she inspired him to always "be at ease."  He told of how when he was deployed to Iraq, that she could make even the most difficult days seem "easy"…being the "balance" in his life in dealing with soldier issues–or flying a helicopter in the desert.  He wants to be the first to ever share "100 Anniversaries."  Rev Joy Blessing an St. Augustine Officiant with Sensational Ceremonies shared during their wedding ceremony–that they could reach that goal by just celebrating more than once every year for the rest of their lives. 
Bride Jennifer says that Andrew helped her realize that love from afar is possible, …that he has taught her to remain calm in stressful situations and especially appreciates his "can-do" attitude. The joy he brought to her life in her words is "incomparable."
Their trust and faith in each other helped them together to embrace all the joys of their "Best Day Ever" wedding celebration at the Palencia Club in St Augustine. Rev Joy Blessing used their words in their ceremony to make it uniquely their own–and encouraged them to continue to realize they are better together than either of them would ever be alone without the other –that their home is always in each other's arms…and that the best is always yet to come!
Their love and support of each other helped them through the challenges of wedding planning that included their venue being cancelled just weeks before their wedding date…and their DJ cancelling the day before!! And…a rainy rehearsal for their outdoor location….but, which only served to clear the air for a spectacularly beautiful wedding day.  All vendors worked together to ensure a magnificent and wonder-full beginning for their more than wonderful marriage
Sarahdipity Photos did an amazing job at capturing the beauty of their love for one another. She was there with them throughout the entire day and make sure to get every shot they wanted.