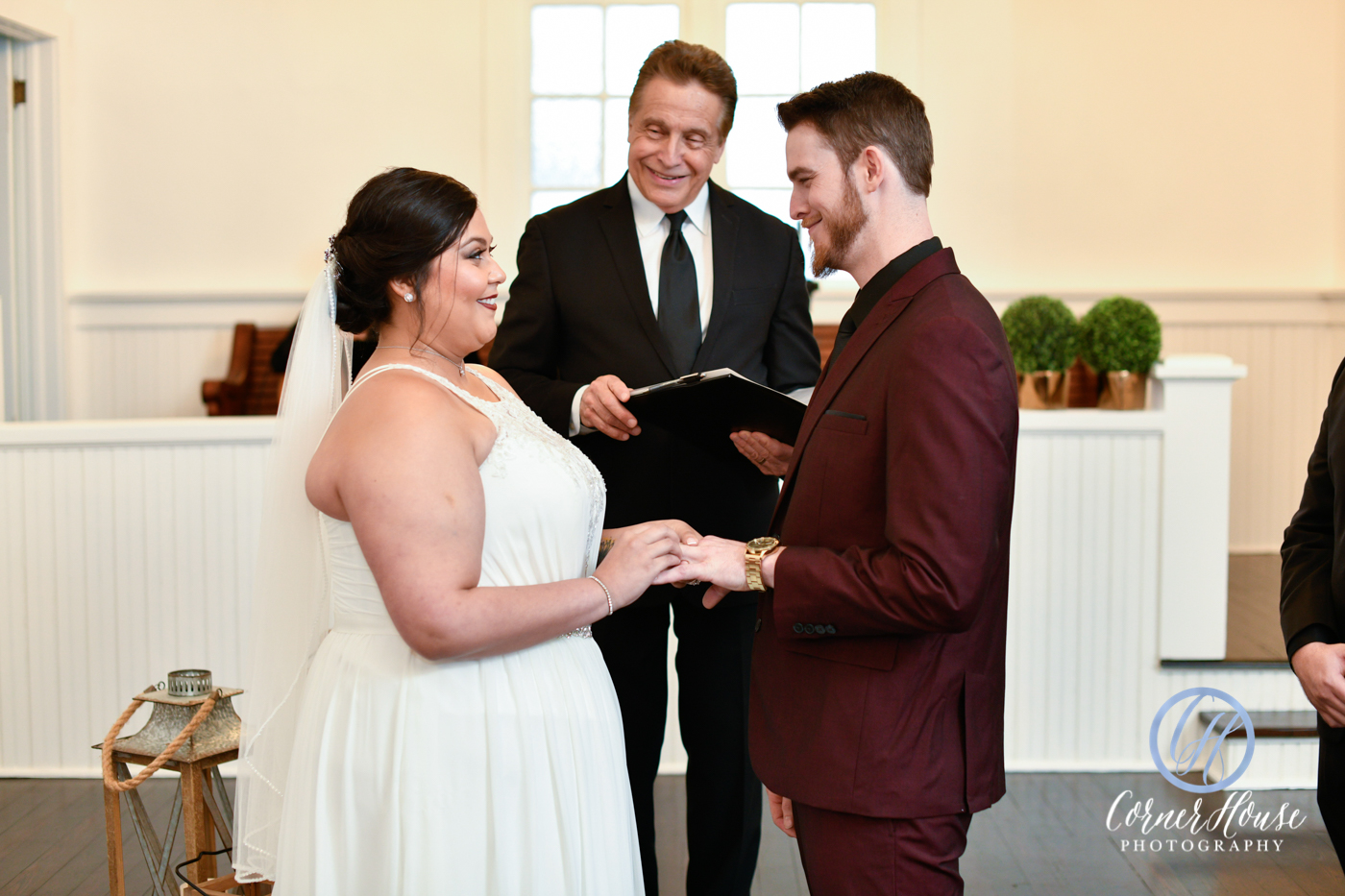 Little White Wedding Chapel
THE VENUE
In the great town of Winter Park, in Central Florida sits a wonderful little white wedding chapel. It's name is Chapel & Hudson's HANNIBAL SQUARE. The charming Chapel was originally built in 1935 and is located in the heart of downtown Winter Park at the entrance of Hannibal Square. Its courtyard encompasses a lovely fountain, beautiful oak trees, and rustic Chicago brick. The interior features an open layout with beautiful hardwood flooring. The Chapel & Cellar HANNIBAL SQUARE provides the perfect ambiance for intimate wedding ceremonies and receptions, bridal showers, outdoor cocktail parties, corporate events and more. The venue also features a fantastic wine cellar that is so warm and inviting. It is perfect especially for wedding receptions. Perfect, for a little white wedding chapel wedding!
THE CEREMONY
Johanna and Brandon brought group of family members and friends to this little white wedding chapel to celebrate their special day; the day of their wedding. Theirs had been a long a warm relationship of over eight years, and they were very certain that they had found the "right partner". Their wedding ceremony punctuated their fundamental belief in the value of trust, fidelity, friendship, and love. Just these words of love echoed in their ceremony point to that very foundation of their relationship. "Love takes you out of loneliness and lets you share your life with someone with whom you can express your innermost feelings and thoughts. It was love that brought you together to this moment, to unite your destinies". Their ceremony also spoke of their belief in trust as a solid part of their relationship foundation. "Trust should be defended, for it can be easily shattered if dishonored". Such beautiful words and more came from the planning kit supplied to the couple by Lon Tosi. Lon is a member of the Central Florida team of wedding officiants from Sensational Ceremonies. He worked with them for three months to build a rich wedding ceremony that fit their style. Items like the Warming of The Rings, that features each family member holding the rings while silently blessing them were included. The ceremony also spoke to their future which certainly is bright.
THE VENDORS
Many fantastic vendors brought their talents to this little white wedding chapel wedding. The officiant again, was Lon Tosi from Sensational Ceremonies. He built a great custom wedding ceremony for the couple. The gorgeous photos are a tribute to the talent of Samantha and her team at Corner House Photography. The photo attached to this piece is so beautiful! Envy Lifestyle & Event Design did an amazing job. Everything was just perfect. Ink and Drink Event Services provided the tasty beverages.
And it all happened on a sunny day in Central Florida, in a small town located in A Little White Wedding Chapel. We wish Johanna and Brandon so much luck and happiness in their marriage! They are off to a great start!