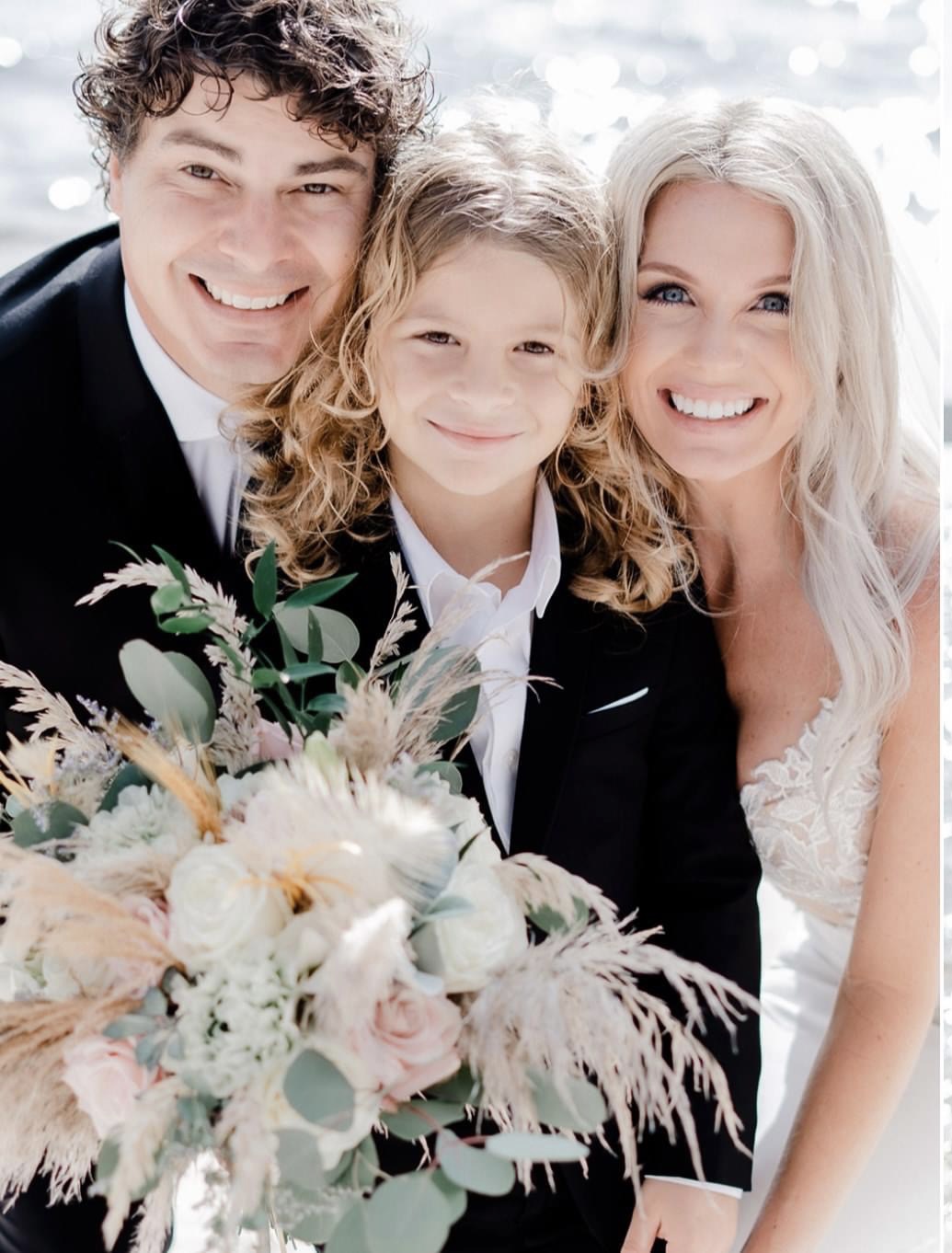 New Year's Eve
Morgan and Jordan met while at a New Year's Eve party five years ago.  So when Jordan asked his beautiful girlfriend to be his bride, there was no guessing when the ceremony would be.  There at Paradise Cove, on the shore of Lake Bryan, with the calm water glistening behind them, Jordan and Morgan took their wedding vows, exchanged rings, and became husband and wife in front of the close family and friends.  

Amy with Blossoms Orlando worked her magic to create one of the most beautiful bouquets you can imagine.  With eucalyptus, white and blush roses, and sprigs of pampas grass in the mix, this New Year's Eve bouquet looked amazing!

Dominico Castaldo with Castaldo Studios arrived at Paradise Cove and his face lit up with excitement, as he saw the beautiful couple.  Every moment of Jordan and Morgan's New Year's Eve wedding was meticulously framed and photographed by his artistic eye. 
For their ceremony, Jordan and Morgan had 
Rev. Glynn Ferguson, an official Walt Disney World Wedding Officiant and the owner of Sensational Ceremonies, work with them to create a beautiful custom ceremony for their New Year's Eve wedding.  Rev. Glynn wanted them to have a very personal ceremony, so he asked them to write and tell him why they love each other.

Morgan wrote of Jordan:  Well first I thought I'd tell you a little background of Jordon and I. Jordon and I actually met at a New Year's Eve party 5 years ago, it was love at first sight. As cliche as that sounds, it's true. I remember walking up and he was wearing a grey beanie and his brown curly hair peeked through the sides and he reached out his hand and shook mine and smiled and that was it. He lit up my world, brighter than a shooting star, a beaming light, the sun on a hot summer day, a shiny new penny, brighter than those fireworks that new years Eve night we met. And I can honestly say he's done just that everyday since. I never knew you could love somebody so deeply in one instant. Then I got to meet Finn, Jordon's son. At the time he was three years old and seeing how much Finn loved his dad and admired him and looked up to Jordon. I fell in love all over again, Finn has taught me so much and has shown me a love I've never felt before.
 Jordon makes everything so natural and easy. He makes the small moments special. Jordon makes me feel wanted and loved. He's a giver, always willing to help anyone in need without hesitation. He's the hardest worker I know, always goes above and beyond with whatever is at hand. He's an amazing father, supportive friend, great brother, loving son, and the best partner I could ever dream of. I tear up writing this to you because I feel like the luckiest women in the world, I wish I could clone Jordon because every girl should feel the way Jordon makes me feel each and every day. I love him more than I've ever loved anything and I'm blessed to spend the rest of my life with him. I could go on forever, it's really difficult to squeeze why I love Jordon into one paragraph. The love I always desired to give, now has a place to call home
Jordan wrote of Morgan:  _______ Five years ago on New Year's Eve I was headed out for a casual evening with a few friends, not knowing that particular night my life would change. As I arrived a friend of mine ran up to me and says I have somebody you have to meet, as I casually walked over and extended my hand out to introduce myself I looked up at the most beautiful woman, eyes you just get lost in a smile that warms the heart. I was at a loss of words as I tried to muster up the courage to say anything. At this point I realized I was still awkwardly shaking her hand. I did not want to let her go. As the night progressed I quickly realized that her personality and The way we communicated with each other was something I've never experienced before, like something out of the movies but I could not rewind it. I needed to see her again, was she even real, was I daydreaming again? Then there was the call: my phone rang, her name popped up, I almost missed it, my nerves were shot. As I grin from ear to ear and listen to her tell me how she just won on a scratch off ticket I knew at that moment that all of my feelings were real and this was the love of my life on the other end of this phone. As time passed there was only one thing left to do, and that was to introduce her to my son. I set it up to do it at my parent's house. That way it would be casual. This was a big step for me and I knew that it would be a lot for her to take on. But as I looked out into the living room and saw the two of them playing hot wheels together there was a feeling of emptiness that started to fill in my heart. I have met the woman of my dreams. A Woman that believes in me, a woman that loves my son and I unconditionally. She has always been there to lift me up and listen to all my crazy ideas. Life is A very complicated road filled with bumps, turns and shortcuts, there is no road map to the final destination and no explanation to how our paths crossed but I am thankful everyday and it is an honor to be taking life's road with someone of such true beauty.
Five years later I am marrying my Best friend and the love of my life, the woman who continues to amaze me every day, our love is something truly special, it has no boundaries. 
Happy New Year and Congratulations to Jordan and Morgan!
For your intimate ceremony at Paradise Cove click here.