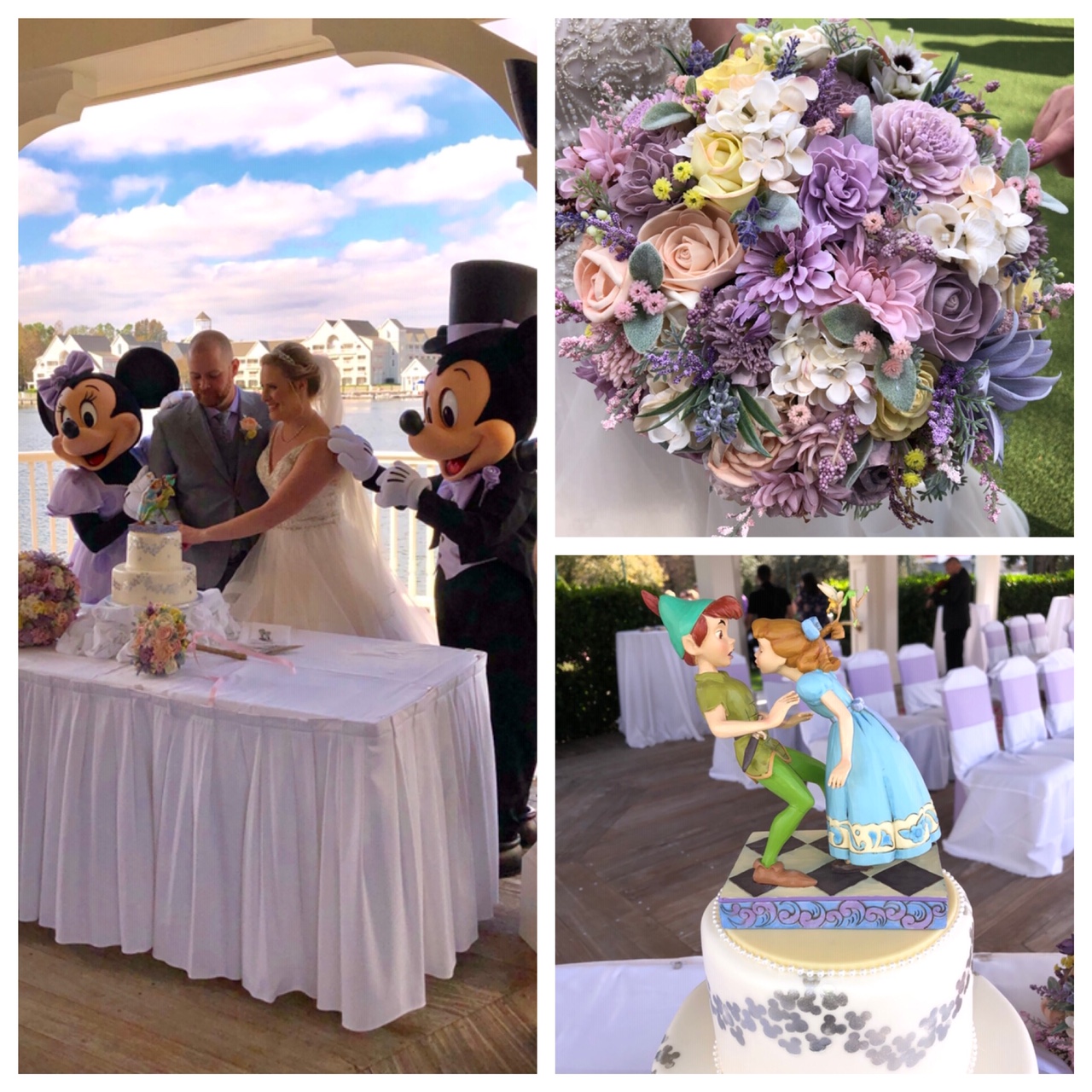 Nuptials at Sea Breeze Point
Danielle's colorful bouquet and Chad's matching boutonniere were actually flowers made of wood by
Rose and Bee Organics
.
Disney Fine Art Photography captured every moment of the couple's day. From their getting ready shots, photos along the Boardwalk, to their ceremony, and their first kiss as husband and wife.
Danielle wrote: "Why I love Chad:
When I first met Chad, I found myself saying that this guy is too good to be true! He's patient, kind, honest, and extremely caring. He's the first one to step up and help others out when in need and expects nothing in return. He reminds me daily how beautiful I am and how much he loves and cares for me. He has such a big heart that my dog Reggie quickly went from being my fur baby, to our fur baby. I love how I can be myself around Chad. I can be goofy and weird and sing out of tune at the top of my lungs. Instead of him stopping me, he joins me. Most times he just finishes my songs for me! We love to be silly and laugh a lot when we're together. Chad supports everything I do and doesn't try to change who I am. He's my rock, my best friend, the love of my life. I cannot wait to see what the future holds for us. I think it's safe to say that Dr. Seuss says it best about our relationship:
We're all a little weird, and life's a little weird.
And when we find someone whose weirdness is compatible with ours, We join up with them and fall in mutual weirdness and call it LOVE."
Chad wrote: Why do I love Danielle? Where do I begin. A lot of people talk about love at first sight. Now I don't give me wrong she is an absolutely beautiful girl. But for me it is not all about looks. For me it was a bout love after our first real conversation. The second time I get the pleasure of being with Danielle we spent our night sitting on the couch and just talking for seven hours. It was after that conversation that I knew I was going to spend the rest of my life with her. I'm not really sure what it was, we just clicked. I had never felt like that before. Come to find out it was the true love I have a long for.
now after spending the last six months with her I found out that it was so much more. I absolutely love everything about her. I love her smile. It is the most beautiful site in the world. I love her laugh. It is absolutely melts my heart. I love that I can be myself around her. Let's be honest, I'm kind of a weirdo and I love the fact that I can be be around her. I love that she feels she could be herself around me. I love her for her dog Reggie. That shows me that she's got to be the kind of mother she's going to be for my children. I love her passion for starting a family. I want that more than anything. I love her drive we're having a great life together. I love that we have the same goals in our life. I can't wait to achieve these goals together and most of all I just absolutely love Daddio. She is my world. I am who I am because of her. I can't wait to see what this crazy world has a store for us. This is The beginning of our fairytale.
We wish them their happily-ever-after!