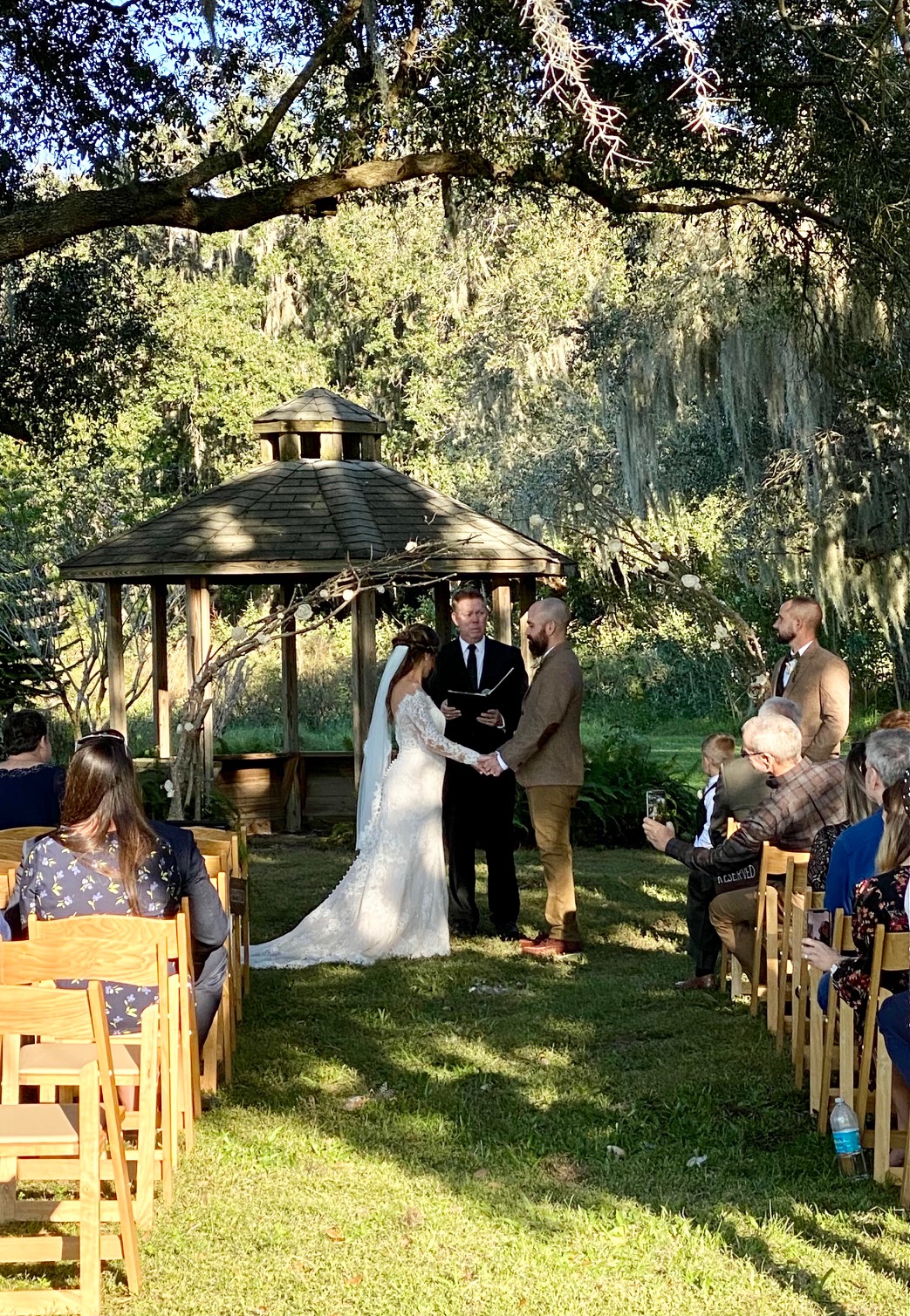 Ranch Chic
Michael and Samantha decided to tie the knot with close family and friends in attendance. They wanted to keep their wedding close to home, a location that really fit their ranch chic feel, and would allow infit the bill for all their desires. Hide Away Acres fit the bill. Located in between Kissimmee and St.Cloud, it allowed the couple the flexibility and the space to really plan their ranch chic wedding.
There under the towering canopy of the live oak trees and on the 28 acres that make up the ranch, the couple could have their ranch chic wedding.
Grant Hemod and Associates were asked to DJ the couple's wedding. From the ceremony music for the bridal party to the dance floor during the reception, they were perfect for this ranch chic wedding.
What better to celebrate a ranch chic wedding than to have the local flavor of Four Rivers Smokehouse cater your event. From the delicious buffet to the scrumptious wedding cake, they made it all look so easy to pull off.
With less than a week before their ranch chic wedding Michael and Samantha found themselves in a bind. A friend, who was supposed to officiate their wedding, was unable to leave his military base due toe COVID travel restrictions. After a referral from their DJ the couple contacted Rev. Glynn Ferguson, an official Walt Disney World Wedding Officiant and owner of Sensational Ceremonies.
Rev. Ferguson polished the ceremony that the couple was working with, made it flow more smoothly, and then gave the two of them a homework assignment. He asked them to make their ranch chic wedding more personal by writing paragraphs explaining why they love each other.
Samantha wrote: I love that we are best friends. I love doing and going places with you but I am happy just sitting next to you doing nothing. You're my favorite person to do nothing with. You are a perfect gentleman: gentle, attentive, and passionate. I don't think you could possibly be a better man than you already were, but every day you do something that proves me wrong. The little things you do simply sweep me off my feet.
Michael wrote: I love Sam because of her ridiculous/hilarious sense of humor. She constantly makes me laugh, and It's something that I can't get enough of, and always makes our lives together enjoyable. Most of all, I love her for the wonderful mother she is to Carter. He's her whole world, and I'm just happy she's made me a part of it. I idolize her as a parent. She's one badass Momma!
What a fun and romantic ranch chic wedding. Congratulations to this sweet couple!