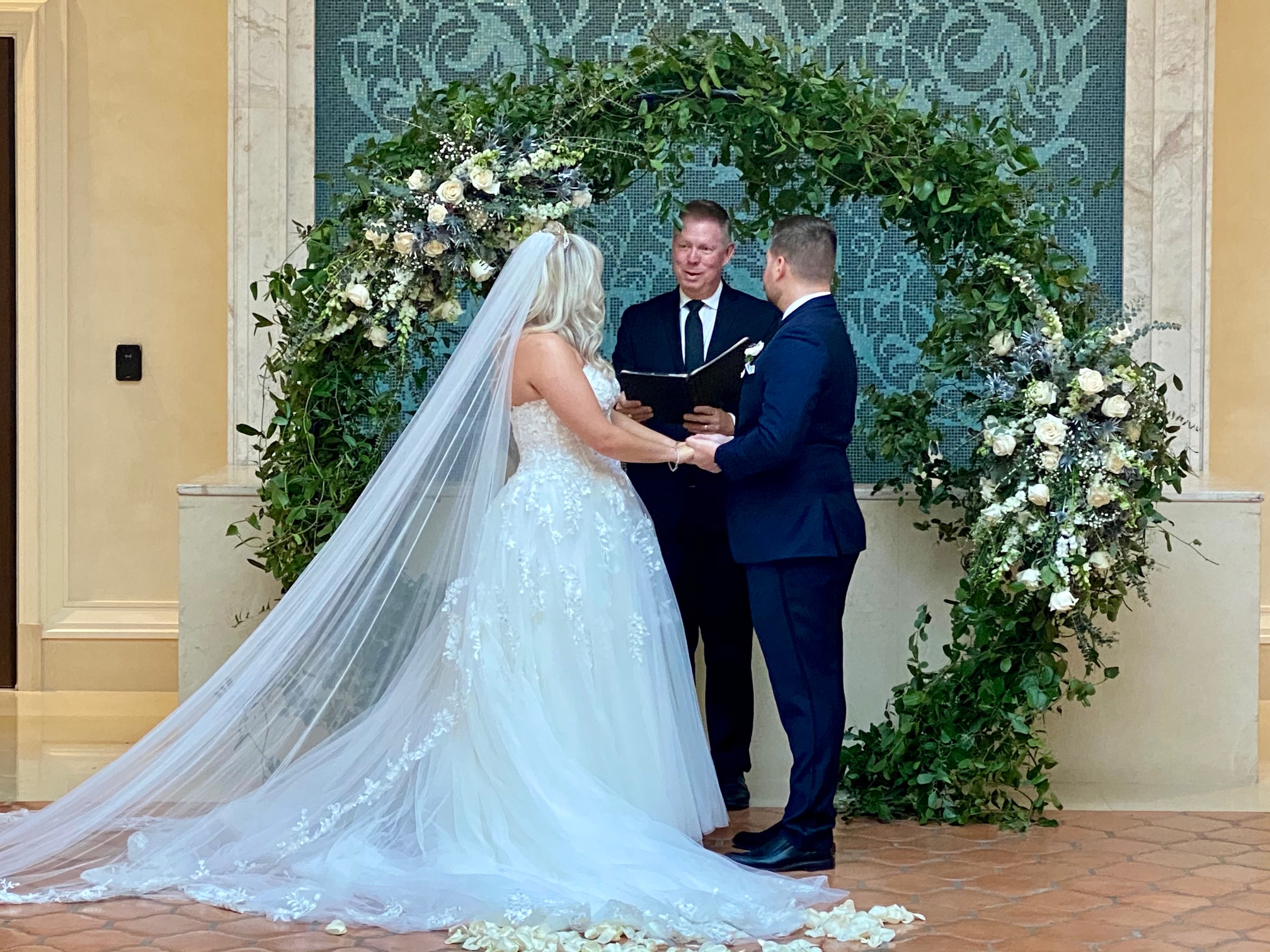 Change of Plans
Lindsey and Evan thought that 2020 was going to be the perfect year for them to get married, but due to shutdowns and a little pandemic they were forced into a change of plans that would have them married in the end.  When their first wedding, that was scheduled in April, was shutted do to a lockdown, the couple decided to shrink their guest count and do a destination wedding in Boulder, Colorado.  As the couple, their close friends, and family walked through the airport three days before the wedding, to fly to Colorado, they received a call from their venue.  The wedding was cancelled once again. Time for another change of plans.  Lindsey's mom sprung into action and knowing of their love for the Four Seasons Resort at Walt Disney World, she called and Sascha Voss, with the Four Seasons, made it happen.   
The perfect professionalism of the Four Seasons Resort allows them to make the impossible, possible and that is exactly what they did.  From booking the couple's vendors, to arranging for a possible rain back up, and dinner afterward.  There was not a detail overlooked.
Greenery Productions, the in-house florist for the Four Seasons Resort, jumped into action.  They took the vision that Lindsey and Evan had and made it all come to life.  From incredible bouquets, boutonnieres, and corsages, to the gorgeous infinity arch covered in greenery and flowers, they hit it out of the ballpark.  Even the walk down the aisle was enhanced with a hidden Mickey outlined in rose petals.
Victoria, with Victoria Angela Photography also stepped up to the plate for this wedding that was a change of plans.  Sometimes the best and most beautiful weddings come because of change.  Even on the day of the wedding, the ceremony was scheduled to be on the resort lawn, but rain threatened and Laurie, the event coordinator for the resort, moved it to their Palm Atrium.  Victoria worked her photographic magic taking pictures of the bridal party's procession, the ceremony, and later into formal pictures around the resort.
When Sascha reached out to Sensational Ceremonies to help with the officiant services; the owner Rev. Glynn Ferguson had the date and time available.  He had blocked that time off his calendar for his own wedding anniversary, but decided to come and make magic for Even and Lindsey on their wedding day.  Even with the change of plans he gave Lindsey and Evan a homework assignment.  He asked them to write and tell him why they love each other and he would place that in their ceremony to make to super personal.
Lindsey wrote:  Evan is my rock, my best friend and my biggest adventure. I say he's my rock because when I'm crumbling under the pressure, he's always there to hold me up. He makes me laugh when it feels like there's no air left to breathe. I say he's my best friend because he's the one I always want to call first with any news and the one I can have fun being quarantined with for two months. There's no one in the world that I would rather make a blanket fort with for two months, while eating yummy junk food and binging Married at First Sight. We share a love of food and traveling and have big plans for our future. Although we've been together for over 7 years now, our love never gets boring. We enjoy our small adventures to new brunch spots and our big adventures like cave diving in Mexico and rafting between mountains in Costa Rica. Our animals, Bristol and Bentley, are the light of our lives and we are very excited to have children in the future. Evan is kind and thoughtful. He never drives past a homeless person or a Salvation Army Santa without helping. He always leaves a note for me before leaving for a work trip. He cuddles me in the morning and makes delicious dinners for me to come home to after a long day. I trust him completely and miss him every second we're apart. For those reasons and so many more, I am head over heels in love with the man I'm about to marry.
Even wrote: As cliche as it sounds the reasons why I love Lindsey are sometimes hard to articulate without losing the depth of my emotions behind the thoughts. I could easily write an endless list of attributes and traits that I love about Lindsey but that doesn't do justice to my true feelings properly either. The best way to explain how I feel is probably with a quick retelling of how we got to this point. When we first bumped into each other on a cruise ship in the summer of 2013 I immediately knew that she would end up having a remarkable effect on my life. It was impossible to comprehend why at the time (and in some ways still is) but the one thing I knew with certainty was how I was drawn to her. What had started as a fun, family cruise quickly turned into a mission to find out as much as I possibly could about her in the limited time available. In a serendipitous turn of luck I learned that we were attending the same school and things quickly progressed from there. I found myself thinking about her and missing her presence whenever we were apart. General consensus seems to be that this is normal for the beginning stages of love and that feeling will give way to a different form of comfort and love as life progresses together. In some ways this has proved itself to be true as we have both grown together as a couple and also as individuals but in many other ways that feeling has never left me, proving time and time again how rare our love and connection is. Due to my career I'm frequently away from home for days at a time. On all of those nights without her next to me I still find my thoughts drifting back to the love of my life that I have waiting for me back at home, missing the presence, warmth and love she brings into my life. I love everything about her and I've never forgotten, even for a single second, how lucky I am to have her.
 Congratulations on your change of plans.  We are so glad that we got to be a part of your wedding day.