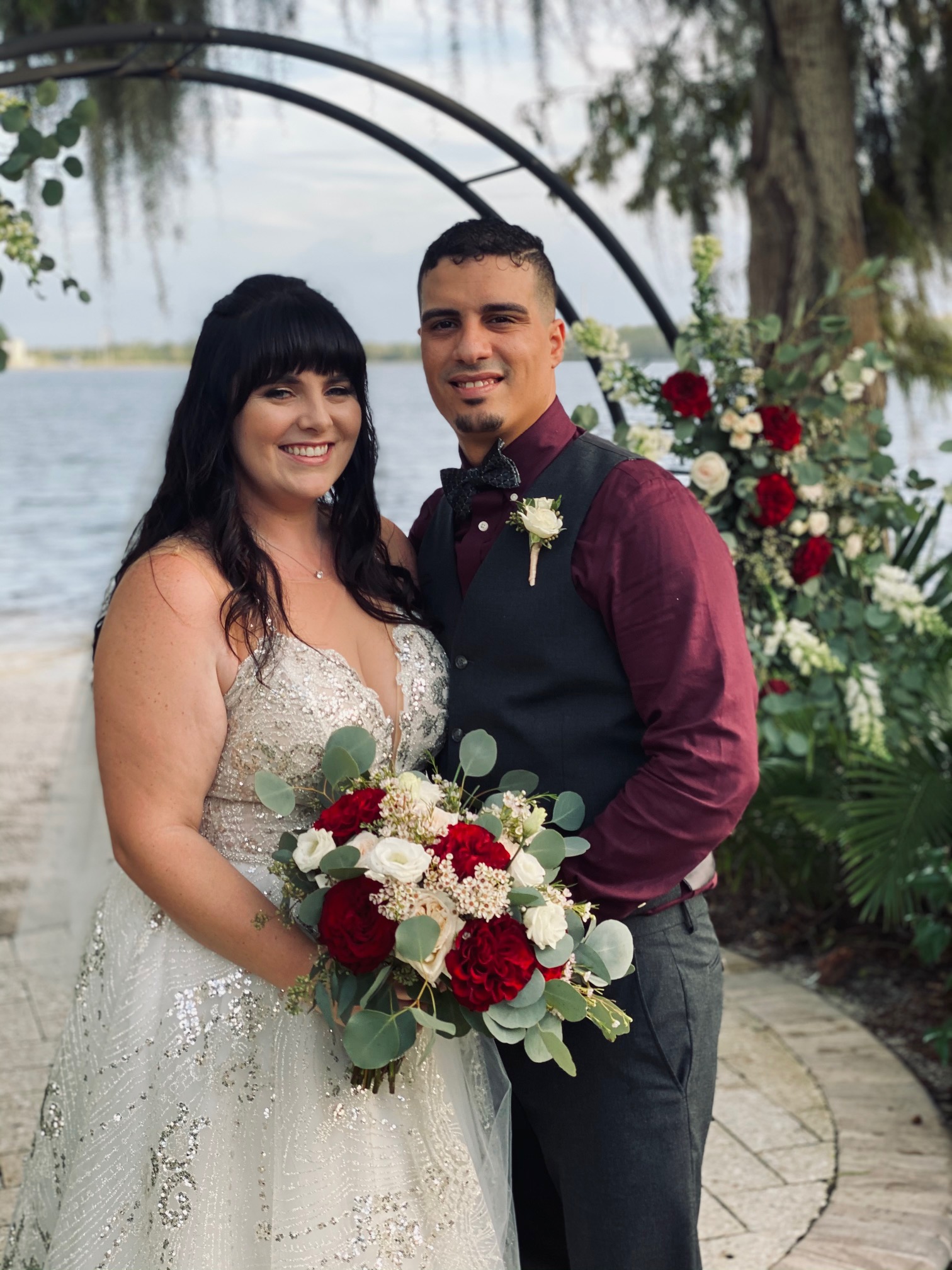 A Playful Love
When Devyn and Jean met they were both working at TRex at Disney Springs.  The connection was more of playful friendship at first.  One of them trying to outperform the other, playing pranks on each other, and friendly cooking competitions.  That friendship made the perfect foundation for the love that eventually came. Once Jean proposed they knew they wanted a wedding that really embodied their playful friendship and Paradise Cove seemed to fit the bill perfectly.  With towering Cypress Trees, Spanish Moss, and a sandy beach, it really had it all.  The couple worked with Courtney at Paradise Cove to make sure they had the perfect vendor team for their wedding day.Atmosphere's Floral and Decor worked their magic and made everything look AMAZING.  From the arch, to the boutonnieres and the bouquets, really everything was just a great reflection of their playfun friendship. Cricket's Photo and Cinema was wonderful to work with and did an outstanding job of capturing every moment of Devyn and Jean's big day.  From the getting ready photos on the venue grounds through the ceremony and boat entrance for the groom, on to the cocktail hour and the reception; Cricket really captured their playful friendship.  Danielle with Sugar Sugar Cake Boutique  made the most delicious wedding cake for Devyn and Jean.  Their playful friend was the inspiration for their beautiful and delicious cake.
DJ Ray with Soundwave really captured that playful friendship as he helped them pick out music for the ceremony, cocktail hour, and the reception.  He kept the dance floor full of people throughout the evening.
Rev. Glynn Ferguson, an Orlando officiant and owner of Sensational Ceremonies, worked with the couple to capture that playful friendship and weave it through their ceremony.  He even gave the couple a homework assignment to write and tell him why they love each other.
Devyn wrote: Jean Gonzalez has the biggest heart of any person I've ever known. I've never felt so loved in my life. I thank god everyday that I'm blessed to spend the rest of my life with him. I love the way he wipes my tears and holds me while i cry, i love the way he makes me feel like I'm the most beautiful person in the entire world, and I feel incredibly honored having someone who gives me more love than i ever thought i would have in my life. He's the best thing that has ever happened to me. And i can't wait to share our lives together
Jean wrote: Why do I love Devyn? That's a question people ask and suddenly in a matter of seconds I smirk! It's like a flash -back of everything! My whole life I've been looking for my other half! But when I found Devyn; She is the whole thing! And I love it! Both together pushing each other to be our best selves! The connection, the teamwork, the hustle it's mutual! But our personalities are extremely different! Which it's not a bad thing at all! Just like we use our similarities in goals, Priorities, And life! We use our difference in personality's to overcome our obstacles! I'm always the chill guy! Nothing bothers me! Everything it's always ok! No worries! Nothing is scary! But Devyn! Uff that's another level of personality! Always active! Everything is going bad! All the worries on the world! Everything it's scary! But it's not bad at all! For every situation that comes! My calm personality and her explosive personality meet! I calm her down And she wakes me up! I'm always mind blown how we as a couple can handle life! I love it! I Find it cute! Lovable! Entertaining! Amusing! Can't get tired of it! It's Scary sometimes you know! How can someone be so happy and comfortable with another person! Everything becomes weird when that other person is not around! All you want to do it's feel their presence around you! For anything really! When you want to go somewhere the first person you want to tell is her! When you want to laugh! Talk! Play! Fight! Prank! Scare! Anything really! All you want it's that presence around! For me that's why I love Devyn! Because I can be fully me and she can be fully her and it's ok! I can still look at her after all these years and have that smirk! Give her the look of yeah, I want that! And I want it forever! And she always was! Just like as a friend! A girlfriend! A fiancé and my now to be! My WIFE!
Congratulations to the two of you. May you carry that playful friendship with you all the days of your married life.