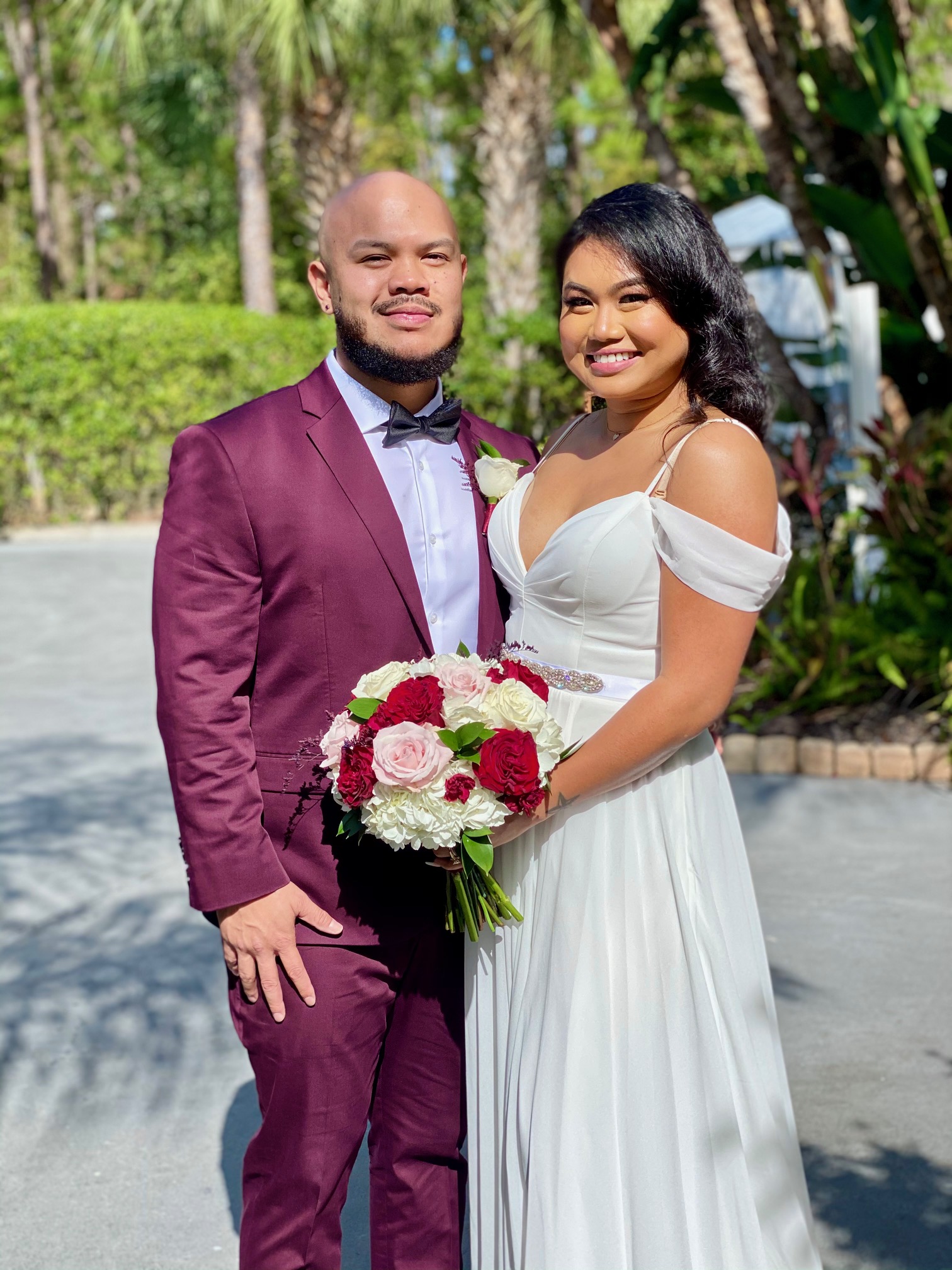 Beach wedding
Phalin and Vince loved the idea of a beach wedding, but really wanted it closer to Central Florida.  Paradise Cove fit the bill perfectly.  Just across the interstate from Walt Disney World, it is like being transported to a tropical island.  Kayli with Paradise Cove worked with the couple to create a one-of-a-kind wedding that would give them everything they were looking for, including a vendor team that was absolutely sensational.

Atmospheres Floral and Decor crafted beautiful bouquets and boutonnieres for the bride and groom, along with beautiful florals for the arch they were married under for their beach wedding.  Red, pink, and white roses were accentuated with white hydrangeas to create a full and beautiful look. 
Dominico Castaldo with Castaldo Studios Photo and Videoworked his magic to make sure that Phalin and Vince loved the images from their beach wedding.  Capturing every shot, from the arrival of the bride all the way through their beachside ceremony.  
Rounding out their vendors for their beach wedding was Rev. Glynn Ferguson, the owner of Sensational Ceremonies and an Orlando wedding officiant.  Rev. Ferguson worked with the couple to craft a custom ceremony that fit their beach wedding theme.  He asked them to write a paragraph each, telling of their love for each other, so that he could help make their ceremony super personal.  

Phalin wrote:  Everything about VJ is everything that I have prayed for in a partner. He's all the things that you could ask for; funny, caring, a good communicator and best of all, he accepted me for all that I am and all that I've come with. I think the best quality about VJ was honestly seeing how he has treated my son throughout the 8 years we have been together. To me, it was one thing to love and care for me but the way he has loved and cared for Joules has been one of the main reasons that I fell in love with him. He's the kindest and most patient man I know. When we are together, I feel as if this is where I belong. All around, I am thankful that God has sent him to me and I couldn't imagine spending forever with anyone else! 

Vince wrote:  I love Phalin because she loves me unconditionally.  I love her for who she is, who she can become, her energy, and the love she gives to her family. Her presence in my life gives me the strength and will to be the best version of myself. She continues to love and support me even at my lowest points and through my mistakes. This are just a few reasons of why I love her.

Congratulations to the two of them.  May the waves of life wash gently over you both.