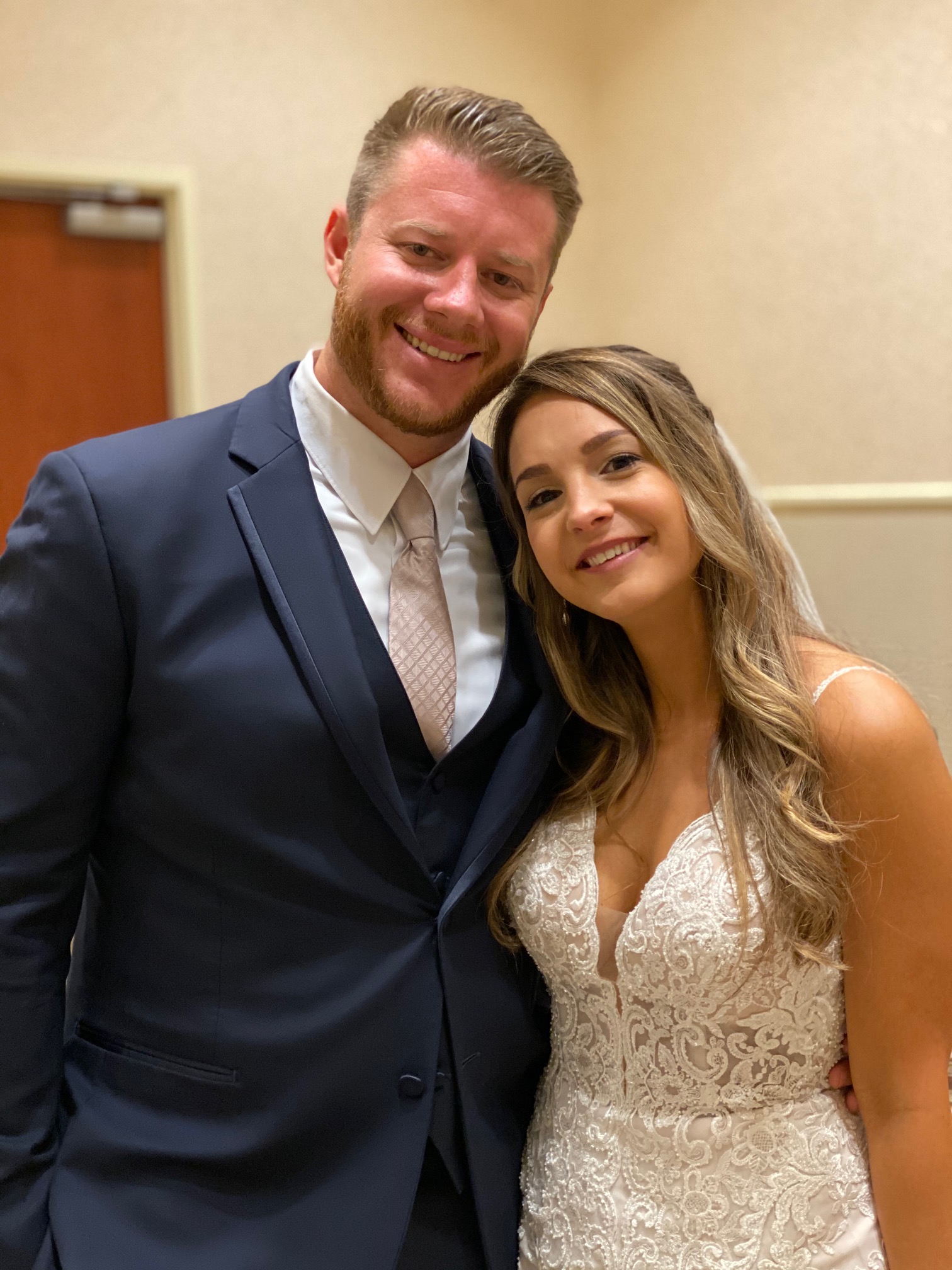 Relaxed Style
Their Story and Venue
Bianca and Anthony fell in love and decided to have their custom ceremony in the Lake Mary Events Center rotunda   This beautiful venue is located in the heart of Lake Mary and sits on the shore of Crystal Lake.  With the floor to ceiling windows overlooking the lawn and lake, this made for the perfect location for the couple's wedding. With their relaxed style they wanted everyone to feel as if they were part of the family, and this venue helped pull that off

Their Team of Vendors
To fit their more relaxed style for the evening the couple chose Four Rivers Smokehouse to cater the event.  With the delicious menu it was easy for them to pick out exactly what they wanted and at the same time give their guests something delicious and special.  Four Rivers also provided the delectable and incredible cake and desserts for the event.

Flowers by Lesley took the visitation that Bianca had for their decor and made that relaxed style come to life through the custom ceremony space, the flowers for the bridal party, bouquets and boutonnieres, and even the decorations for the table in the reception.  Everything was rich and beautiful, but yet with a more laid back feel.

Cierra with Our DJ Rocks took care of all the music for the evening.  Anyone who doesn't realize how important music is to the custom ceremony, just has never had to sit in silence for a while.  Cierra was fantastic at helping the couple pick music for their ceremony and reception that fit the two of them and kept everyone on the dance floor throughout the evening. 

Capturing every moment of the Anthony and Bianca's day was Fox and Film.  This husband and wife dynamic duo made sure to grab photos from the couple getting ready, a first look, the ceremony, receptions, and on to their departure as newlyweds.   Their relaxed style was to capture the love story of the evening and they sure accomplished that.

Making sure to create a custom ceremony that fit the two of them, the couple turned to Rev. Glynn Ferguson, the owner of Sensational Ceremonies .  He worked with Bianca and Anthony to craft a ceremony that filled their lungs with laughter and hearts with joy.  Their beautifully modern custom ceremony was filled with scripture from 1 Corinthians and blessings over their marriage without forgetting their relaxed style.  Rev.Glynn also asked them to write and tell him why the love each other.

Anthony said:"I love Bianca because we both love adventure, whether climbing mountains or exploring new cities. She is an amazing cook, she supports me, and works so hard at everything she does. She is honest, and will let me know when my jokes are bad. But most of all, Bianca makes me a better man. She puts the joy into my life. When I see her, I see a family. I am so grateful to have her in my life. I am so excited to start this journey with her and To create the next chapter of our lives. "

Bianca said: I love Anthony because each and everyday he gives me a reason to smile, a reason to laugh and a reason to be grateful for our life together. I love that he has a heart of gold and is so kind and generous to everyone around him. In a world full of "me" people, I thank god everyday that I found someone who puts the needs of others before his own. Anthony, I love all your amazing qualities. You are selfless, faithful, gentle yet strong, funny, intelligent and so much more.You make me laugh when I don't want to, you keep me from taking myself too seriously, and you make me feel beautiful and confident each and everyday. You are truly everything I prayed my husband would be and I'm so lucky god chose you for me. I love you forever and always.