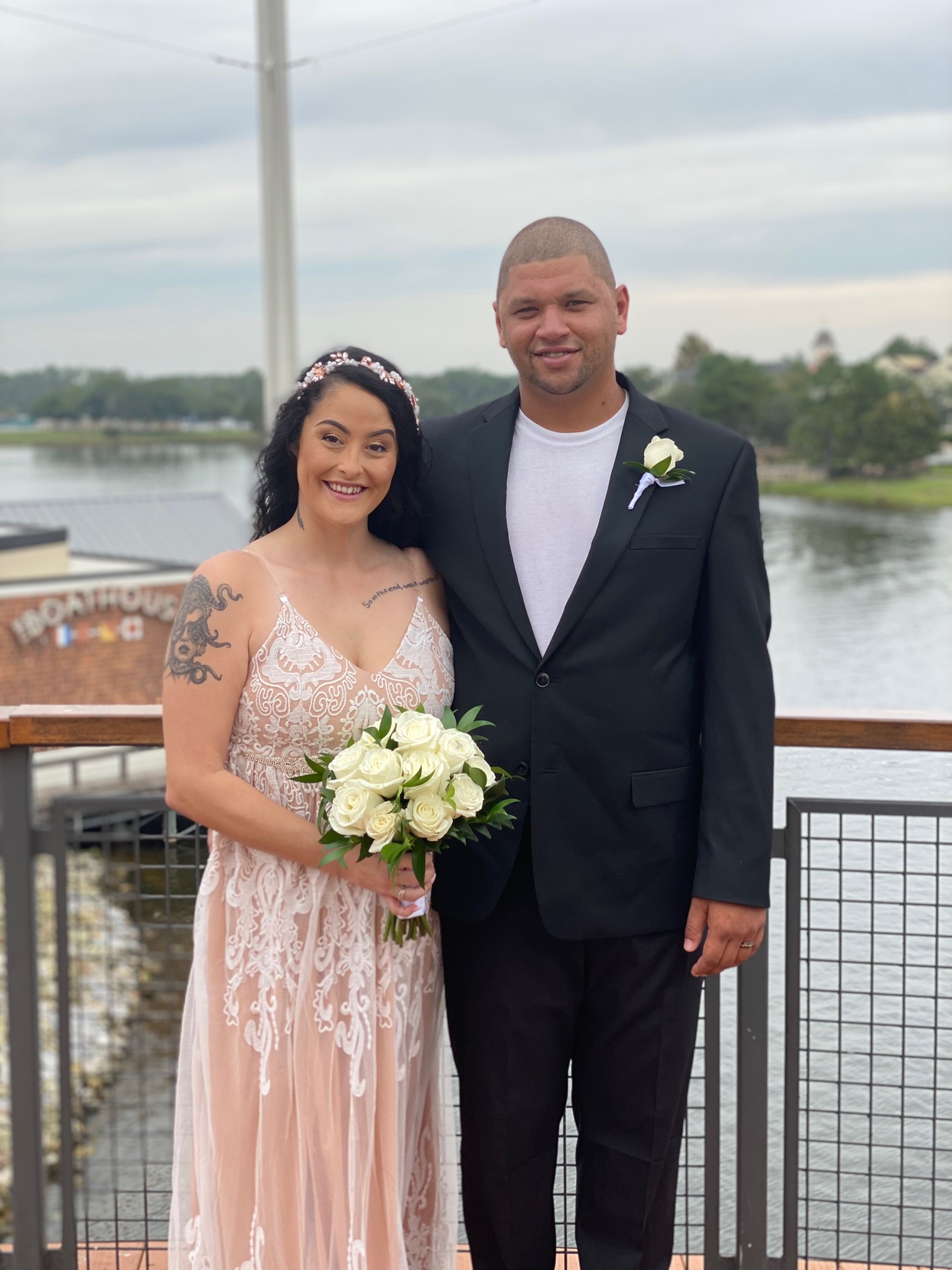 Reschedule
When James and Nicole planned their destination wedding, Victoria from Intimate Weddings of Orlando really took the ball and booked everything for them.  Weeks into the planning process the venue was reserved, vendors booked, and they had already started working on their ceremony, but then James was injured.  While working on a truck engine, the radiator exploded and sprayed boiling fluid on James.  While James recovered in the hospital Nicole called Victoria to cancel the wedding, but instead Victoria helped them to just reschedule and put everything on hold until James was well.
Paddlefish at Disney Springs was so wonderful to work with. Kate and her team were very accommodating when they heard that James had been injured and they let the couple know that they could reschedule to any available time they needed.  
Once Victoria, with Intimate Weddings of Orlando, got the green light, she contacted the vendors and venue and made sure to reschedule everything  for this intimate wedding.
Edmund with Rhodes Studios Photo and Video was happy to reschedule for this beautiful couple.  From the moment he stepped foot on Paddlefish his camera was clicking and he was capturing some of the most beautiful photos for the couple.
Flowers by Lesley made sure that even with the reschedule, that Nicole and James had beautiful bouquets and boutonnieres made of greenery and full white roses.  The flowers were exactly what the couple ordered for their destination wedding.
Rev. Glynn Ferguson, the owner of Sensational Ceremonies and an official Walt Disney World Wedding Officiant, had been working with the couple when they had to reschedule their wedding.  The extra time allowed them to really personalize their ceremony and do the homework that Rev. Ferguson gave them, before the accident.
Rev. Ferguson asked them to each write and tell him why they love each other.
Nicole wrote:  Why I love you? I love you because you're a giver. You give in the most sacrificial ways. Whether it be working in the heat to provide for our family or your last dollar to buy me a nerds rope just because you know I love them. You give our family grounding in the chaos of life. You've given me patience when I test your nerves. You've given me hope in the darkest moments of life and remind me if I continue to worry I'll have gray hairs by 30! You've given me a lifetime of laughter, and you've probably given me some of the gray hairs I worry about too! But most of all I love you because you've given me the opportunity to shower you with the same love and understanding you give to me everyday.
James wrote:  I love you. Not only for what you are but for what I am when I'm with you.
I love how you push me to be the best person I can be, even if I tell you I just want to watch a video on my phone.
I love you because you chose me to be that one special person you get to annoy for the rest of your life.
I love your dedication to our family and how you strive to be a better woman even when I feel like I'm failing to be a better man.
I love your telepathic skills; you know what the family needs before we even know we need it.
I love your financial responsibility and how you make sure we are paying the bills instead of me "thinking" we paid the bills. I know we will always have hot water and lights so I can see your beautiful face every night and lay next to you without being stinky.
I love you because we chose each other and I would continue to choose you in a hundred lifetimes, a hundred different universes and every version of my reality I would still find you and choose you.
Congratulations to the two of you. We are so glad that James is healing and that you had the opportunity to reschedule your intimate wedding!