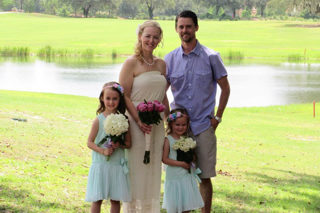 Sara & Kevin Rogers
All You Need is Love! The story of a beautiful intimate renewal ceremony.
Yesterday, Lon Tosi of Sensational Ceremonies conducted a beautiful vow renewal ceremony that I created the sense of love to great to ignore.  Sara and Kevin Rogers and their beautiful daughters Hillary and Hannah visited Central Florida from Toronto, Canada. This was Sara and Kevin's 10-year anniversary and they contacted Lon Tosi to do a renewal ceremony. Dianne Tosi used their camera to take some photos for them of this small intimate renewal. The ceremony took place in a beautiful shaded area near a golf course. They were such a loving couple and their children while still quite young, were perfect ladies. Their ceremony was full of rich readings and emotion. The Roger's were such a beautiful family, the love and unity that they share is remarkable. After performing this renewal Lon Tosi was able to reflect on this day, with this family and feel an exuberant joy.
Sensational Ceremonies wishes The Rogers Family many more years of happiness!