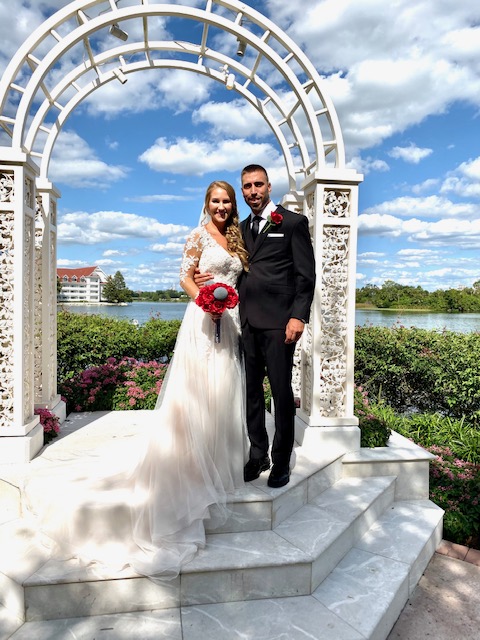 Seven Seas Lagoon
Their Story
Shannon and Jason were such a fun couple to work with.  Traveling from Massachusetts they were drawn to the magical Walt Disney World in Orlando, Florida for their wedding.  There on the shores of the Seven Seas Lagoon the couple exchanged vows in the Walt Disney Wedding Pavilion.  
Their Team
Jennifer Sharpe with Disney Fairytale Weddings worked hand in hand with the couple to make sure their beautiful wedding on the Seven Seas lagoon was everything they wanted it to be.  From the planning to the rehearsal and then on to the ceremony and reception she took care of it all for them.  She showed them ideas for the decorations from the floral department and talked them through their menu options for their reception.
Jason and Shannon chose to use Disney Fine Art Photography for their wedding day.  From the getting ready pictures in suite to the formal pictures on the staircase at the Grand Floridian, they captured everything before the ceremony.  Once at the Wedding Pavilion the gentlemen enjoyed a breather from the hustle and bustle of the day, while hanging out in the Wishes Room.  Then when the bride and her maids arrived everyone was ready to go.
The couple contacted Married by Mail to help them acquire their Florida Marriage License, long before they ever arrived in town for their wedding on the Seven Seas Lagoon.  They said the process was simple and saved them a lot of time
.Rev. Glynn Ferguson, an Orlando officiant, Official Walt Disney World Wedding Officiant, and owner of Sensational Ceremonies worked with the Shannon and Jason to create a custom ceremony that was unique, personal, and filled with both laughter and tears of joy.  He gave them an assignment to write and tell him why they love each other and then he read those during the ceremony.  It was AMAZING!!!
Shannon wrote:  Jason is the kind of person that is just so easy to love. He has the kindest, purest soul I have ever met. What you see is what you get. The big kind eyes, always with a smile, and the biggest bear hugs you'll ever receive. He really is my better half and my best friend. I love that no matter how silly I can be, Jason can top me every time. He is my kind of weird. I love how easy life is with him. He always knows how to make me smile even on my darkest days and believes in me at times when I don't believe in myself. He sees the good in everyone and every situation. I love how passionate he is in everything he does and never gives up. I thank God every day for having brought us together. I can't imagine a life without him and I'm so lucky to have his love in return. I know that both of his parents are looking down on him and are so proud of the good man he has become. I am proud of him everyday and so lucky to stand by his side and have him soon call me his wife. I can't wait to spend the rest of our lives together.
Jason wrote:  I decided to wait until a week out to do this so I could fully capture the most up to date reasons why I love Shannon. It had nothing to do with procrastination… (haha)
Shannon is Beautiful,smart, driven, and funny. She would quickly deny 3 out of those 4 that I just listed and reply back with: "you're right I'm am sooo funny". She has a hard time taking compliments in general but If I would have left off funny as an attribute she may have stopped you to add it in.
Everything I do is better when I can share it with her. Whether it be traveling the world or playing video games on the couch together. She supports me in every decision and everything I do. I always felt like the person you are with should make your life easier and not more complicated. Shannon does just that for me. She has been there for me when I needed her over the years and she overall makes me better.
And on top of all that.. she loves to fish! I knew she was the one when she called me one day and asked me to pick up bait on the way home from work so we could go fishingWe wish them their very own Happily Ever After!