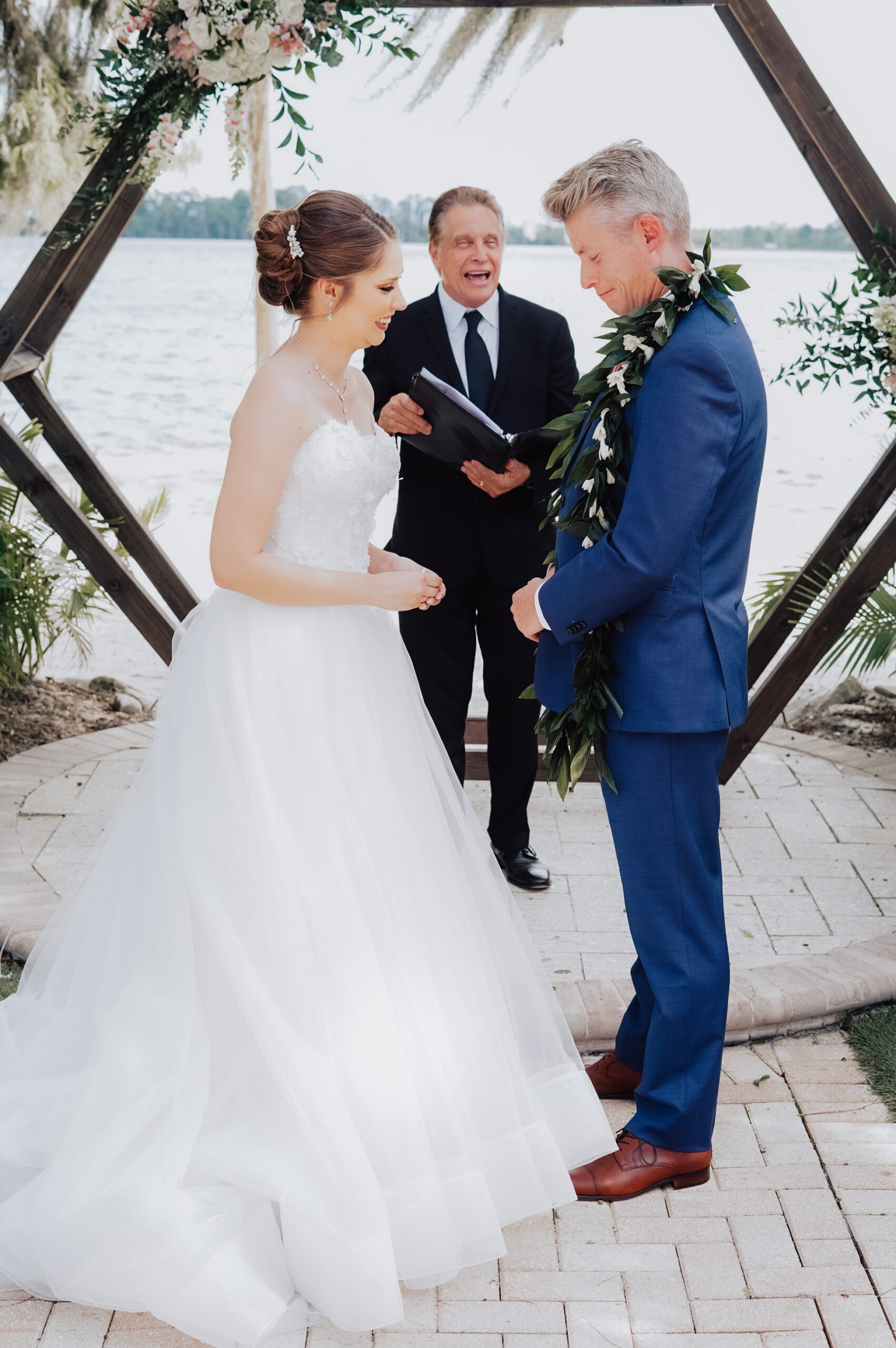 Slice of Paradise
The Venue
A sunny day greeted Brandon and Katrina as they arrived at their venue for their long-anticipated wedding. It was the sort of day that is typical of Central Florida in late August. There was a slight breeze with threatened rain. But for their big moment, the skies were a bright blue. Paradise Cove, in fact, never looked better. The Spanish moss hanging from the tall cypress trees surrounding the lakeside arch was swaying in the breeze as if to say "welcome and good luck to you. Paradise Cove is unique in Orlando, Florida area since it has an amazing tropical feel with its sand beach and a gorgeous lake with its beautiful trees growing in the water. It truly is an amazing place that leaves it mark on any that see it for the first time. Once they saw it, this lucky couple knew that they had found their "forever" wedding site! So, they brought their group of family and friends to this little slice of paradise to celebrate their coming together as husband and wife.
The Ceremony
Lon Tosi, was their wedding officiant. He represents the amazing group of officiants from Sensational Ceremonies. Lon worked with Brandon and Katrina to build a ceremony that fit their style. They wanted for it to be simple and short. Lon told them that simple and short can also be beautiful and memorable, and in fact, it was. It was indeed fitting for that magical spot as well. They committed to each other using words that are historic, even ancient. Their vows were straightforward, but strong. They both repeated the same vows: "I, take you to be my wedded wife/husband, to have and to hold from this day forward, for better, for worse, for richer, for poorer, in sickness and in health, to love and to cherish, as long as we both shall live". Their love was shining through in those words. They have a strong love and it will guide them through all that life has to offer.
The Vendors
There was an amazing team of professionals working with this couple to make it a perfect day! Lon Tosi was the officiant for their special wedding ceremony. He represents Sensational Ceremonies. Domenico Castaldo of the amazing Castaldo studio Photo + Cinema. Christine MacPhail did her magic with the magnificent harp! Amy from Blossoms provided the gorgeous florals for the occasion!
In their own little slice of paradise, Brandon and Katrina had a perfect wedding in every way! And it all happened on a sunny day in Orlando, Florida!