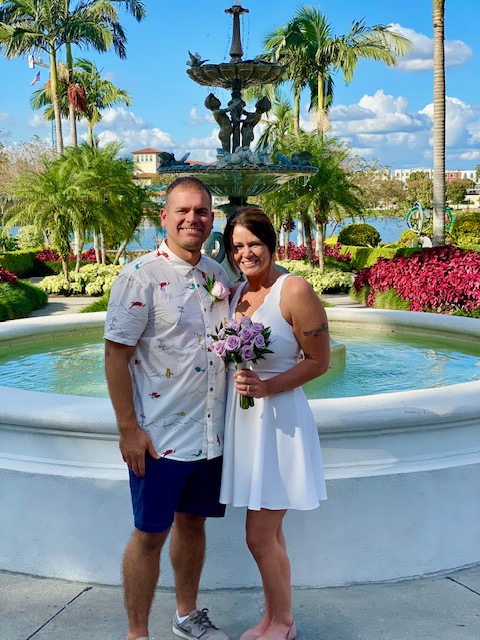 Spontaneous Elopement
When Christopher and Kelly decided to have a spontaneous elopement they contacted Victoria with Intimate Weddings of Orlando to see if she could make it happen in less than three days.  Victoria sprung into action, contracted vendors, ordered flowers, spoke with the venue the couple was interested in, and pulled it off perfectly.
Hollis Gardens in Lakeland was the perfect location for this last minute elopement.  Located on Mirror Lake in downtown Lakeland, Hollis Gardens has more than an acre of manicured neo classical gardens with over ten thousand blooming plants.
After contacting Sensational Ceremonies, Rev. Glynn Ferguson, the owner and Orlando officiant decided to work with the couple himself.  He contacted Christopher and Kelly, sent them a ceremony planning kit so they could pick out the ceremony they wanted, and he gave them a homework assignment for their last minute elopement.  Rev. Ferguson asked them to write and tell him why they love each other. Kelly wrote:  Since I've met Christopher, I have learned to be myself again. I love the way he makes me feel, the way he looks at me, like I'm the only person in the world. The way he never forgets the little things that make me happy, I love the way he smiles the moment I look at him .Our long distant relationship has been quite a journey, but I truly feel that it was meant to be… we were meant to find each other.
He is my soulmate, my rock, and my best friend, I couldn't imagine my life without him.
Christopher wrote:  At times, I feel selfish in my love for Kelly. She makes me so incredibly happy; the kind of happy that makes you bounce when you walk. I love her giggles and full throated chuckles. I love when her face lights up with excitement. I love her embrace and when she holds me without wanting to let go. I love sharing special moments with her, on the go, or just sitting perfectly quiet and still. I love her passion and wit. Our jokes and talks. I love her softness and the care she shows my daughter. And selfishly I love that she loves me.
Edmund Rhodes with Rhodes Studios took up the challenge of pulling off a last minute elopement.  From the moment he stepped into Hollis Gardens he had his camera in hand and was taking pictures of the beautiful couple.  From pictures of their ceremony, to formal pictures in the garden Edmund captured it all.
Kelly asked for a bouquet and boutonniere in lavender and Flowers by Lesley never fails to supply.  Even with this being a last minute elopement Lesley jumped at the challenge and made it happen.  The amnesia lavender roses looked absolutely beautiful and the color went well with both Kelly's knee length dress and Christopher's whimsical "Red Fish, Blue Fish" button down shirt.
Christopher and Kelly, we wish you happiness for a lifetime.  Congratulations!