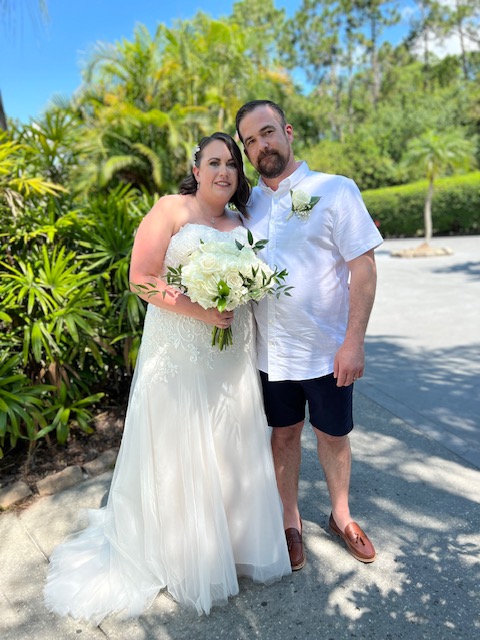 Stacey and Thomas
Stacey and Thomas traveled from the United Kingdom to celebrate their destination wedding at Paradise Cove in Orlando, Florida. The couple chose a simple civil ceremony and were ready to get married after travel restrictions pushed their wedding back a few times. Their planner with Paradise Cove worked with them to help them find an amazing team of vendors.
For their flowers, Stacey and Thomas had Amy with Blossoms Orlando work with them to create a simple bouquet and boutonniere of matching white roses and white hydrangeas. The look gave a cool spring feel to not only their florals, but to the matching pieces on the wedding arch.
Stacey and Thomas chose KMD Photo and Film to capture every moment of their wedding day. From slipping into the dress to walking down the aisle as husband and wife, nothing was overlooked.
Rev. Glynn Ferguson, an official Walt Disney World Wedding Officiant and owner of Sensational Ceremonies, worked with Stacey and Thomas to make sure their wedding day was spot on. Even though they wanted a simple and short ceremony, he explained that the best ceremonies have personal touches. He gave them an homework assignment to write and tell him why they love each other, then incorporated that into the ceremony.
Stacey wrote: Today as we say I do, I just want to say a few things to remind you why I love you; You make me laugh, you make me think, and above all, you make me happy. I love who you are, proud of what we have achieved and overcome and excited for our future. I promise to bring out the best in you, because you truly bring out the best in me. I feel so lucky today as I am marrying my soul mate and my best friend, and today we will become one whole family.
Thomas wrote: My love for Stacey is because not only is she a devoted & loving partner a caring mother with a big heart and nothing but time for family but also has a strong Will and a certain look to get what she wants she's not only the perfect best friend she is an amazing Mother and fiancée, I am really excited for our future together.
Congratulations Stacey and Thomas on your beautiful wedding.