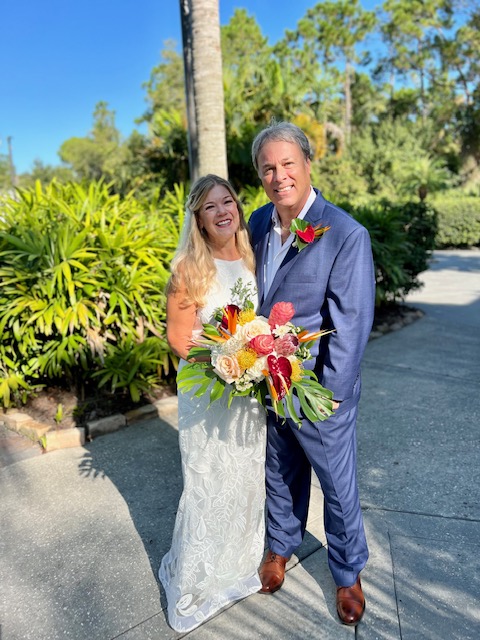 Steven and Teresa
Steven and Teresa traveled from the Atlanta area to get married at the tropical Paradise Cove in Orlando, Florida. After meeting on a dating site the couple looked beyond the ordinary and saw the extraordinary in each other.
Steven and Teresa worked with Paradise Cove to assemble an incredible list of vendors to make their wedding dream a reality. Blossoms Orlando worked their magic and brought a stunning tropical bouquet that really was beyond imagination.
KMD Photo and Film stepped up to the plate a delivered a home run with the photography. Kristen made everyone feel at ease and kept the mood upbeat, so there were plenty of smiles all around.
Rev. Glynn Ferguson, an Orlando wedding minister and owner of Sensational Ceremonies, worked with Steve and Teresa to craft a beautiful custom ceremony that fit the two of them perfectly. Rev. Glynn gave them a homework assignment to write and tell him why they love each other.
Teresa wrote: I met Steve at a time when I didn't feel very lovable. I was extremely overweight, and he was able to see me for what was on the inside and not my outer appearance. He made me feel special and beautiful. I fell in love with Steve because of the level of kindness that he shows to all. He has shown my daughter compassion and support. He supports my goals and dreams. He makes me smile every day and treats me like I am a priority. He makes me feel safe and secure. I hope that I can do the same for him.
Steve wrote: Thanks to OK Cupid I was able to meet my true love. We were able to get to know each other before meeting one another. I fell in love with her northern accent over the phone, her (o's) are great! The feelings I have for Teresa I can't describe a truly wonderful woman. She makes me feel I am loved and in return I hope she feels the same! I love her smile, laugh and joking around together. (Oh don't forget that homemade dimple, brother's lol) so cute! She makes me and my heart feel so wonderful. I love her so much!
Congratulations Steven and Teresa. May you live happily ever after!
Sensational Ceremonies
Average rating:
0 reviews