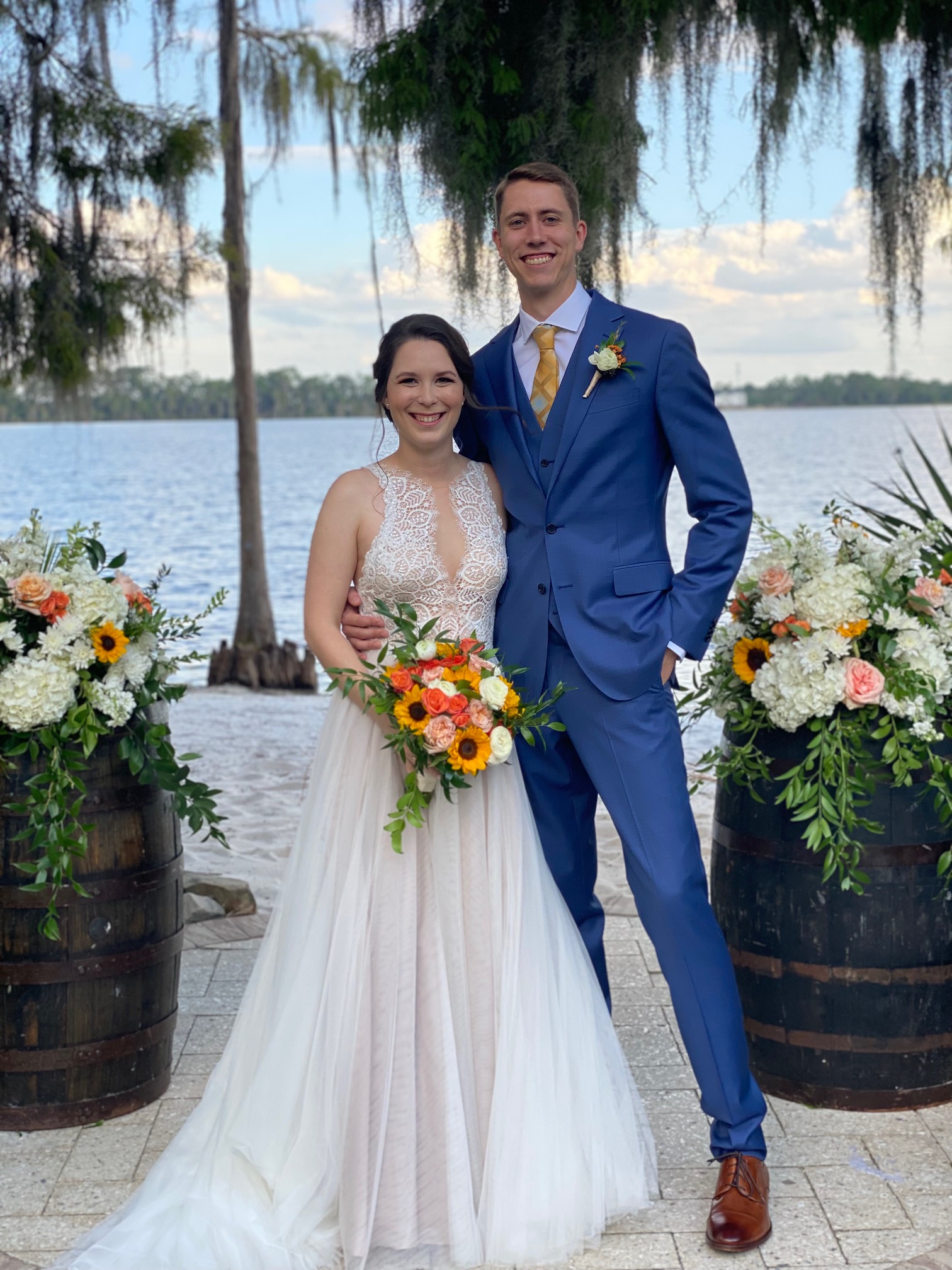 Tall Order
Stephanie and Ian traveled from Canada to get married at the beautiful Paradise Cove in Orlando, Florida.  Kayli with Paradise Cove worked with the couple to make sure every detail of their intimate wedding was planned to perfection, it was a tall order but it included helping them pull together a great vendor team.

Debra, with Atmospheres Floral and Decor, made sure the couple's flowers were absolutely stunning.  When Stephanie and Ian were working with her to bring their vision to life, they realized that the traditional arch that is typically used at Paradise Cove was far too short for the groom to stand under.  At 6'6″ Ian's head would be sticking out the top of the arch, so the couple chose two barrels with flower decor on top of them, to frame their ceremony site.  It was a tall order, but Debra did a great job!

Danielle with Sugar Sugar Cake Boutique made the most delicious cake for Ian and Stephanie's wedding.  The buttercream was out of this world and made you want to lick your fork and ask for more. It was a tall order because she wanted the cake to look as beautiful as 

Ian and Stephanie chose Rev. Glynn Ferguson, an Orlando Wedding Officiant  and the owner of Sensational Ceremonies, to help them to create the tall order of making a custom ceremony for them.  Even though the couple traveled from outside the country he led them through a ceremony planning kit and gave them a homework assignment to make it very personal.
Rev. Ferguson asked them to write and tell him why they love each other.

Stephanie wrote:  Ian and I have been together for 11 years now. We've graduated high school together, went to college, moved across the country, did even more school (a masters for Ian and law for me), got jobs, got a dog, and even a house! We have lived apart and together. Through it all – Ian has been my steadfast rock when I experienced difficulties, my ardent supporter to help me achieve my dreams, he has challenged me to do new things and go farther than I thought myself capable of (frequently up mountains when I said I was already dead….). For the first few years we were together as a couple, we were (ironically) apart physically. He was across the country at University while I stayed in our hometown. At 18, in a long distance relationship I got frequent questions about why I was with him when distance can be so difficult, and the answer then is the same as today: everyday he makes me happier than I would otherwise be, he makes me a better person than I would be without him. It is difficult to sum up why I love Ian: loving him is as easy and natural as breathing. I love how thoughtful he is, his adventurous side, his baking, how he takes on every challenge with apparent ease. Ian has been my partner in every way until today – I am so excited to be able to share with the world that he is my partner for life.
Ian wrote:  It's hard to believe that Stephanie and I have spent over a third of our lives together. Throughout our eleven years together, our relationship has come effortlessly, whether we were long-distance in the early days, moving in together in college, or buying a house together. Stephanie is an extremely committed and loyal person, and I can always count on her no matter what. Her joy for the simple things in life, whether it be cooking & baking, debating a political/philosophical topic, or playing with our dog Clover brings so much richness to my life. She is also adventurous and is willing to push her own boundaries (especially on hiking & backpacking trips we do in the Canadian Rockies). Her dedication to her work as a Labour & Employment Lawyer, helping mistreated employees, is inspirational. Her love and affection is my happiness, and I can't imagine life without Stephanie.
It was a tall order but their ceremony really knocked it out of the ballpark!