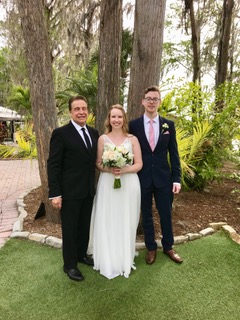 The Beautiful Shores of Paradise Cove
Steven and Mary traveled from their home in Ireland to the beautiful shores of Paradise Cove in Lake Buena Vista, Florida to celebrate their marriage. This was a true love story. They first met in elementary school and have been together ever since. They actually became a couple eleven years before their marriage. Both have light hair and sparkling eyes; providing for a perfect match! It was just the two of them as they stood before Lon Tosi from the Orlando team of Officiants of Sensational Ceremonies. Lon performed a lovely ceremony that the couple had selected from a planning kit and it fit the couple perfectly! It spoke of love and trust – two very important components for any marriage! It ended with their commitment to love one another for the rest of their lives!
Edmund Rhodes of Rhodes Studios was on hand to capture their special moments. And, the amazing bouquet that Mary is holding was provided by Flowers By Lesley! Mary looked spectacular due in part to the outstanding work of Beauty and A Bowtie. Crown Limousine Orlando brought the couple to their venue in style! And of course Jamie of Elegant Weddings of Orlando organized the entire event with style and "Elegance". It was just perfect! This was in fact, a package put together by Elegant Weddings of Orlando.

There is something about a small intimate wedding such as this one. It was just Lon and the couple along with the photographer. So warm and friendly!

They planned to visit all the Orlando attractions while on their two week honeymoon. Universal Studios Orlando, SeaWorld Orlando, and Walt Disney World are all on the docket. Married By Mail secured their Florida Marriage License for Mary and Steven. Married By Mail made the marriage license process easy for them from their far away home in Ireland.

We wish them much love and happiness! And it all happened to a Lovely Couple on a warm and sunny day at Paradise Cove Orlando!