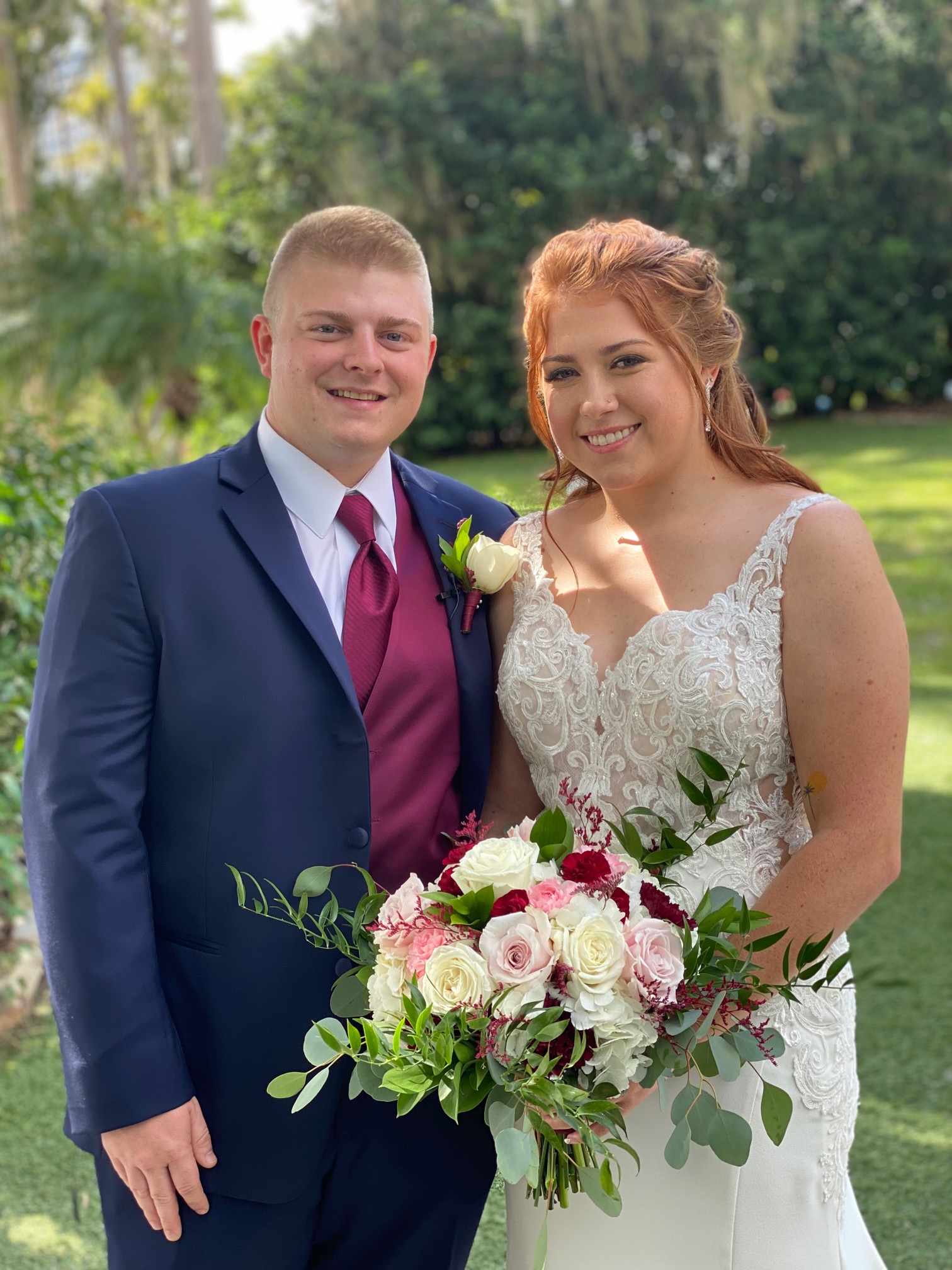 Tropical
Madison and Austin traveled to sunny Orlando, Florida to get married at the tropical Paradise Cove on Lake Bryan. The couple's venue coordinator, Jasmine, did an outstanding job of helping the couple pull together a great team of vendors for their intimate wedding.  

The wonderful team of KMD Photography was the perfect choice for Madison and Austin's Tropical wedding.  Their ease of style and laid-back demeanor was a calming effect on the couple and allowed them to enjoy the process of photographing every aspect of their wedding day.   

Amy, with Blossoms Orlando really came through with a beautiful bouquet and matching boutonniere for this tropical wedding at Paradise Cove.  With roses in white, pink, and burgundy, surrounded by silver dollar eucalyptus, and other greenery; their florals looked beautiful!
Austin and Madison worked with Rev. Glynn Ferguson, the owner of Sensational Ceremonies and an official Walt Disney World Wedding Officiant, to create a custom ceremony just for the. ir tropical wedding.  With personalized vows, addressing thanks to their parents, and a reading from the book of Ruth, it was beautiful.  
Rev. Ferguson also gave the two of them a homework assignment to make their tropical wedding perfectly personal.  He asked them to write and tell him why they  love each other.
Madison wrote for her tropical homework:  I love Austin for so many reasons. He is my best friend. I don't know what I'd do without him. He makes my bad days turn into good days. He's always there for me even when I didn't know I needed him. He brings out sides of me that I never knew I had. (I was always so serious before I met him.) Now I have somewhat of an outgoing side and fun side because of him. He makes me the happiest girl in the world. I didn't know what I love you really meant until I said it to him. When I say it to him I get butterflies every single time. He has shown me what love really is.
Austin wrote for her tropical homework:  I knew from our first date that I wanted you to be my girlfriend. I've never met somebody else like you and I know I never will. From the first day we met, I've fallen more in love with you and have seen more good in you every single day. I feel like I've known you forever, yet every day with you is still exciting and adventurous. I look forward to the weekend every week just so we can have more time together. I'll never stop looking forward to coming home to you every day. You are my best friend, and we can accomplish anything together. I never knew somebody could be so driven, smart, funny and beautiful all at once. I'm so excited to have you by my side for the rest of our lives.
Congratulations to the two of you on your tropical wedding in Orlando.