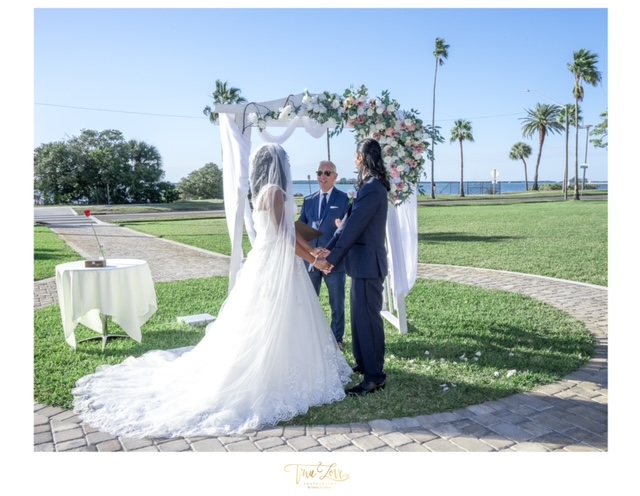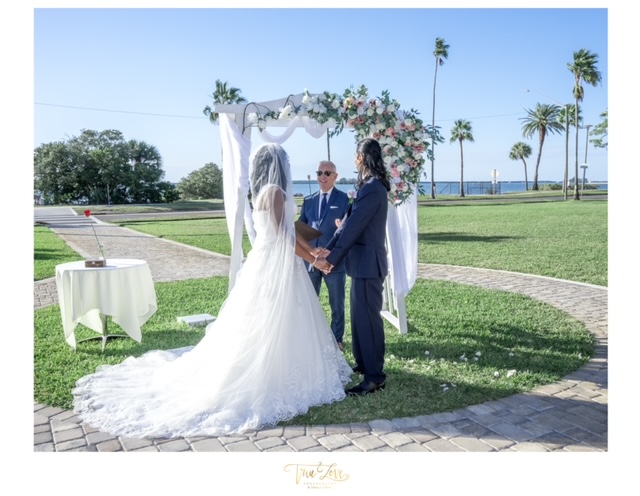 Vayola and JD
Vayola and JD chose the Fenway Hotel in Dunedin, FL as the venue for their intimate wedding ceremony. 
Blending historic legacy with modern sophistication, Fenway Hotel, Autograph Collection is exactly like nothing else. For over 90 years, the hotel has welcomed some of the world's most celebrated artists, politicians and luminaries to Dunedin, Florida; a Jazz Age landmark, it was home to the county's first radio station, and vestiges of its musical past exist around every corner with its boutique rooms and suites. Guests are also invited to sample perfectly prepared steak and other specialties at HEW Parlor & Chophouse, and then ascend to Hi-Fi Rooftop Bar with sweeping views of Clearwater Beach across the Intracoastal Waterway. As a wedding venue, brides and grooms can choose from nearly 11,500 square feet of space, including two verdant lawns and a unique ballroom.
Vayola looked gorgeous in her wedding gown as she was escorted down the aisle by her mother, to join JD in front of their wedding arch. The couples' custom designed wedding ceremony included a Thank You to the Parents, the Parental Blessing, Scripture Readings from the Bible books of Genesis, Ruth and Proverbs, the Lord's Prayer, Special Readings The Past, Love and The Art of Marriage, The Blessing of the Hands, The Rose and Vase Ceremony and The Irish Wedding Blessing. Then, in front of an intimate gathering of their family and friends, the couple shared their marriage vows, exchanged rings and were pronounced husband and wife by Rev Rick Lackore of Sensational Ceremonies.
Venue Coordination was provided by the staff at The Fenway. Thank you to A True Love Affair Intimate Florida Weddings for coordinating all the details and special thanks to Tammy, with True Love Photography, for providing this beautiful photo during their ceremony.
Congratulations to the new Mr. and Mrs. Junaid Dwyer!