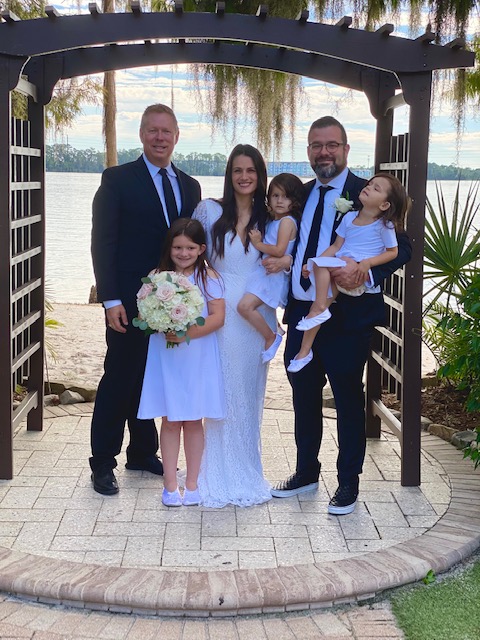 Sunny
Jessica and Timothy traveled from Illinois to sunny Florida to get married at Paradise Cove in Orlando. Olivia, the coordinator from Paradise Cove worked with the couple to bring together a wonderful team of wedding vendors to make their intimate ceremony come to life.
Rudy and Marta Photography were a perfect fit for the couple's sunny wedding day. With Rudy's style, he captured every shot that was important to the couple and even suggested some beautiful locations around the property.
Amy, with Blossoms Orlando really worked her magic on this sunny wedding for Jessica and Timothy. With bouquets and boutonnieres that featured white and pink roses, silver dollar eucalyptus, and hydrangeas, everything was beautiful.
Long before Timothy and Jessican came to Orlando, they worked with Married by Mail to obtain their Florida Marriage License. Married by Mail gathered information from the couple, emailed them documents to sign and then took care of the rest. When the process was completed, they personally delivered the marriage license to the couple's officiant, so it was there on their sunny wedding day.
Rev. Glynn Ferguson, the owner of Sensational Ceremonies and an official Walt Disney World Wedding Officiant, worked with Jessica and Timothy to create a beautiful custom ceremony for their sunny wedding.
Rev. Ferguson gave the two of them a homework assignment to help make their wedding ceremony super personal. He asked them to write and tell him why the love each other.
Jessica wrote: Tim is my other half. He is an amazing father and provider. He puts everything he's got into family and work and makes it all go. The level that he operates, every other person would have spread themselves so thin to the point of see-through. Not this guy though. I love that we still choose each other after we built our lives and had our family. That we did things out of the traditional order, and we still ended up here. I love that no matter how hard of a day either of us has had, we can still joke around in the kitchen between work calls and getting ready for bedtime.
Timothy wrote: I first asked Jess to marry me eight years ago, over the past eight years life has happened and delayed our wedding plans.. children, needing bigger houses to take care of said children.. career changes, world wide pandemic..
She has always understood me in a way that no one else has. Listened when I needed to talk, gave advice when I needed it, was there to hold our family together everyday no matter what.Her dedication to our children (Mara, Indie and Ollie) is an inspiration.
She is the smartest, most caring, loving and patient person I have ever met. I wake up every day knowing I am the luckiest man in the world.
Congratulations on your sunny wedding at Paradise Cove.