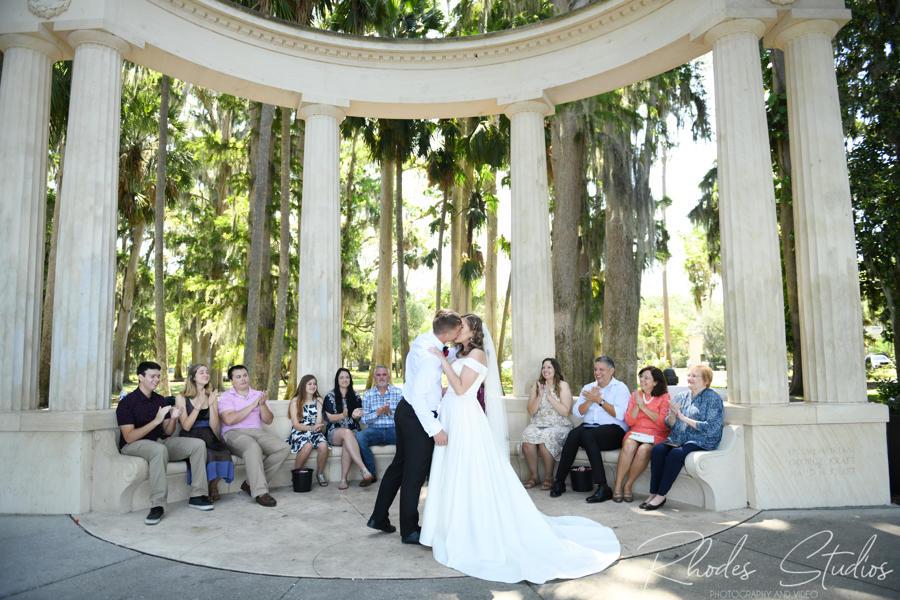 Victoria and Sean
Victoria and Sean came to Orlando for a vacation and planned a wedding for their time in town. Victoria and Sean met at a county carnaval in her hometown. She went to the fair one night and ran into the future love of her life while he was working there. Sean was on a work visa from South Africa and Victoria caught his eye and she gave him her number that night.
Intimate Weddings of Orlando got an email from Victoria and Sean asking about the availability of the Kraft Azalea package on our website. When they heard all the details, they were in!
Surrounded by their close family and friends, Victoria and Sean gathered at Kraft Azalea Garden for their perfect wedding ceremony. There under the shade of 300 year old Cypress trees and overlooking Lake Maitland the couple became husband and wife in front of the beautiful Exedra that was donated by the Kraft family.
Rev. Glynn Ferguson, an Orlando wedding officiant and owner of Sensational Ceremonies worked hand in hand with Victoria and Sean to create a beautiful custom wedding ceremony that was filled with several touching moments. Rev. Ferguson asied the two of them to write and tell him why they love each other.
Victoria wrote: The love I have for Sean is a playful, romantic and exciting love. He makes me feel so loved and I have no doubts that I will feel that love from him for the rest of our lives together. He makes me laugh with his goofiness. Throughout this journey that we have been on we have struggled but have still stood strong together. He takes care of me with all of my health issues and has been supportive of me through my worst and now that I am beginning to enter remission with my autoimmune disorder, we are cherishing the health that we both have at the moment. He is always a person that I can count on to make light of a bad situation that I am going through.
Another thing that I love about him is his sense of adventure, one of us seems to always be pushing the other to go out and explore new things and travel to new places. From our travels in Tanzania, to our adventures in South Africa the excitement never ends. With bright plans ahead of us with lots of traveling I am glad I get to explore all of those places and share all of those moments with my best friend. I enjoy life a lot more with him in it and love the spontaneity that we have together. Another of the many things I love about him is his ambition.
He has lots of plans for our future together to build a successful life for us. Despite what happens in the future of our careers or finances, whether it be success or failure, I know in my heart that our relationship will be bursting with unconditional love and joy. For richer or for poorer there is no one I would rather spend the rest of my life with but Sean Leak.
Sean wrote: Victoria and I began dating in 2019. We met at a carnival at her hometown Iola where I work. When I saw her standing in the line to get on the ride I thought she was super cute and attractive. Knowing a little less she had a crush on me.Then my dreams must have come true as this young lady Victoria just gave me her number which was super sweet of her. We went on our first date a few days later around downtown wichita. We ended up with the best romantic date to the McDonalds DriveThru [HAHAHA] unfortunately i had to leave the USA and return back to SA as my visa was going to expire. A year later December 2020 she came on a month-long holiday to South Africa where we spent more time together and got to know one another better.
I just fell in love with this beautiful lady Victoria Smith, soon to be Victoria Leak and knew that she would be special and couldn't ask for anyone better. I just love doing road trips and fun adventures with her. I love her personality, her kindness and her smile.Victoria also has the best heart ever. She is no trader, she is a keeper for sure. I've made good memories with her too.I love her sweetness and kindness towards friends and family and even to people she may not know. I also love that she is up for doing anything and always willing to help out where she can.
I love her eyes,hair and her looks. She is one amazing fiance one could ever ask for with lots of joy in her life. I love that she takes good care of me when I'm sick or having a bad day. I love her jokes and she definitely knows how to put a smile on my face and put up with my nonsense. I also love her silliness. At times. I cannot wait to see what the future has for us with many more memories and laughter.
For their photography Victoria and Sean chose Rhodes Studios Photography and Videography to capture the ceremony for them, to share with family and friends back home. From the moment they stepped out of their car Edmund Rhodes was busy taking pictures for them to cherish for a lifetime.
Flowers by Lesley crafted the beautiful red bouquet and boutonniere for Victoria and Sean. The additional rose petals the couple ordered were tossed in the air as the couple was pronounced husband and wife.
Married by Mail assisted Victoria and Sean in getting their Florida Marriage License. Without that license this would only have been a party.
Congratulations Victoria and Sean. We were so excited to be a part of your international wedding.
Sensational Ceremonies
Average rating:
0 reviews