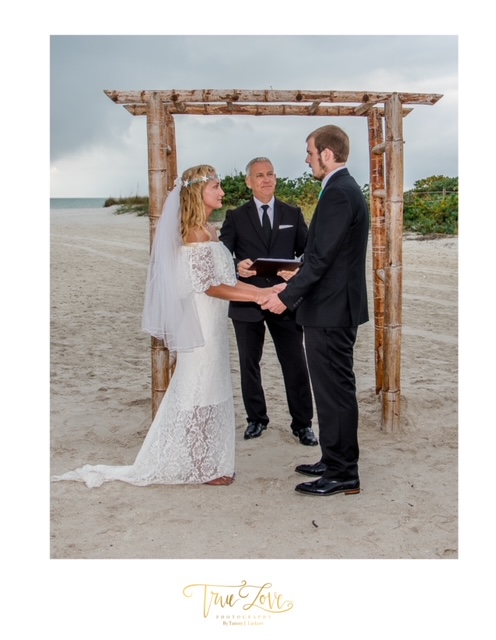 Sun, sand, waves and fun
Sun, sand, waves and fun! That's what Amy and Craig, who came from Ohio, were looking for when they chose the Postcard Inn on St. Pete Beach as the venue for their destination wedding celebration in mid-December.
The Postcard Inn is a unique retro inspired hotel in a tropical setting in the heart of St. Pete Beach, complete with one-of-a-kind surfer chic rooms. The Sun, sand, waves, and fun decor and vibe you feel here is unmatched on Florida's west coast.
Amy looked amazing as she was escorted across the sand by her father, to join Craig under their wedding arch. The couples' custom designed ceremony included a Special Remembrance for Craig's father and Amy's aunt, a scripture reading from the book of Genesis, A Wedding Blessing and Sand Ceremony. Then, in front of an intimate gathering of their family and friends, and with the sparking waters of the Gulf of Mexico as their backdrop, the couple shared their vows, exchanged rings and were pronounced husband and wife by Rev Rick Lackore of Sensational Ceremonies. They truly had the sun, sand, waves, and fun all throughout their wedding.
Venue coordination was provided by the staff at the Postcard Inn. Special thanks to Tammy, with True Love Photography, for providing this photo as Craig shared his vows with Amy.
Congratulations to Mr. and Mrs. Craig Bye.