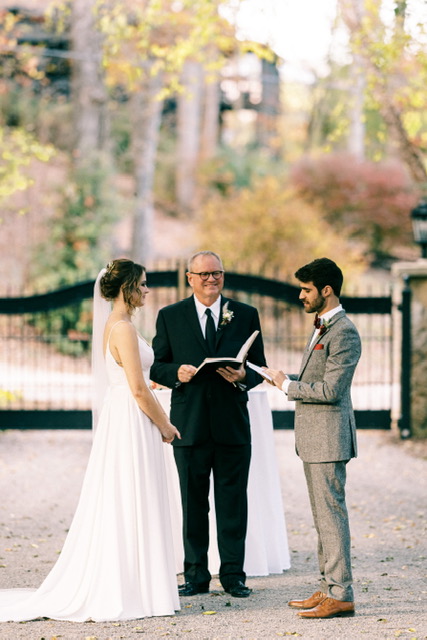 Intimate Escape
How They Met
Erik wiggled his way into meeting Jaycee by offering to take a pic of her and a friend. Jaycee wouldn't let the evening go by without taking the meeting to another level by grabbing Erik when he walked by later that evening. During this conversation they found out they shared the same birthday but only after verifying his driver's license to prove it wasn't a "pick up line". Naturally after a dating relationship they decided to make their birthdays their wedding day as well. Erik and Jaycee not only wanted their wedding to be centered in God's will, but they also wanted their wedding to be a fun time for all their family and friends, and make it an intimate escape for that to occur.
Their Venue
The couple chose the beautiful venue at Hawksdene for their special day. This 54 acres estate is tucked in the heart of the North Carolina forests near Andrews and Murphy, North Carolina, but also just a quick drive from East Tennessee. With cabins, beautiful vistas, tree lined roads and waterfalls hidden around the property, it is truly an intimate escape in the mountains.
Their Vendors
Putting this intimate escape together to making the day go smoothly and perfect was none other than Shawn Schindler Events . Her attention to detail was flawless and her communication with the other vendors was impeccable.
The one capturing this intimate escape for Jaycee and Erik for memories to come was Travis Karr through video and Vesic Photography through photography.
Heatherly Event Design worked with a beautiful setting and accentuated that beauty with her own custom design florals to make the wedding and reception location for this intimate escape stand out with special touches for all to enjoy.
Adding beauty to the day was Jaycee and her bridesmaids who were taken care of by Salon El-Khouri and Day Spa along with Jessica Maynard Hair Specialist.
Taking the evening into a celebration with custom music for Erik and Jaycee and dancing for all was none other than Island Sound.  They kept this intimate escape rockin' into the night.
Rev Chuck O'Connor, an East Tennessee officiant and team leader, with Sensational Ceremonies officiated the custom ceremony.  Along with providing "requested" pre-marriage counseling for both Erik and Jaycee, working with them to create a beautiful ceremony, and making their day special while making the marriage official, he loved working with this sweet couple.