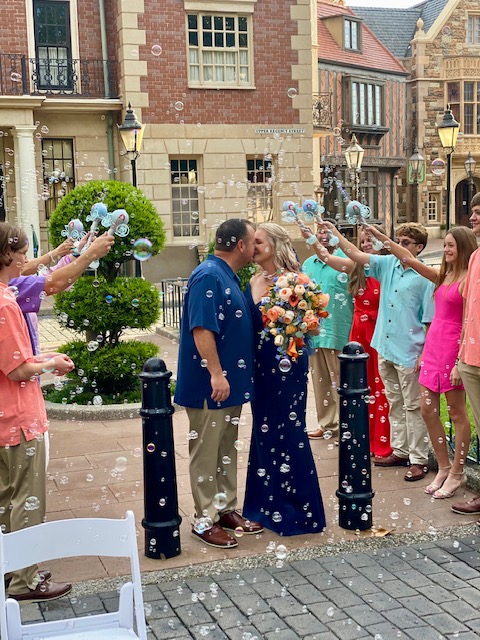 A Fairytale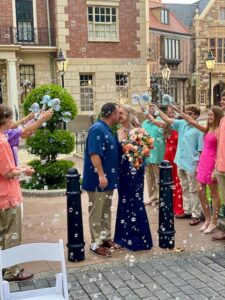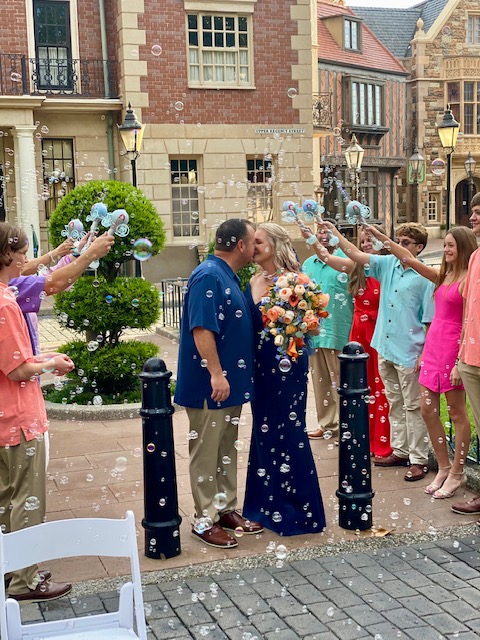 Richard and Maggie traveled to Walt Disney World in Orlando, Florida to get married at the beautiful United Kingdom Pavilion at Epcot.  With close family and friends dressed in an array of bright colors, the couple walked down the aisle, took their vows, exchanged rings and became husband and wife in the fairytale wedding they wanted.
Jacob, from Disney Fine Art Photography, worked with the couple to capture every moment of their wedding day.  He started with Richard and Maggie in the Magic Kingdom for a park shoot and then came over with them to the United Kingdom Pavilion to photograph their ceremony.
The ladies with Disney Fairytale Weddings made sure to take care of every detail for the couple's big day.  From location layout and set up, to passing out dozens of bubble wands for their exit, DFTW took care of it all.
Rob from the Disney Entertainment Group worked his magic on the violin  at the United Kingdom Pavilion.  When guests listened to the ceremony music they just loved what they heard and afterward he played requests.  He is incredibly talented.
The couple asked Rev. Glynn Ferguson, an Orlando wedding officiant, owner of Sensational Ceremonies, and an official Walt Disney World Wedding Officiant to work with them to create a custom ceremony that was personalized and fit the two of them like a glove.  The ceremony in the United Kingdom Pavilion had touches of Mary Poppins, Cherry Tree Lane, and British Tea.
Rev. Ferguson gave Richard and Maggie a homework assignment to make their ceremony more personal.  He asked them to write and tell him why they love each other.   
Maggie wrote:  Richard, I love you for so many reasons it's hard to narrow down the words to just a few. I love how you make me laugh even if or when I don't want to. How you don't let me take myself too seriously and always bring out the best in me. I love that we don't have to agree on everything and still love unconditionally. I love that you make me feel beautiful even when I feel I look or feel my worst. I love that you send me a good morning beautiful text every time we are unable to wake up together. I love every silly poop & nap story you share, even the Jones barbeque and foot massage video even if I pretend I don't. I love the family you, Trey, Thomas and I have become. I've always said I don't need you but want you in my life but love that's not true. I need your smile, your laugh, and your arms around me every day. I need you in like I need air to breathe and I'm so honored and excited to become your wife.
Richard wrote:  Maggie, there is no one that I would rather be standing here with than you. You are the Robin to my Batman, the Dr Watson to my Sherlock Holmes, the Kal Naughton Jr to my Ricky Bobby or in our case Mr. Jingles, the Chewy to my Han, the Spock to my Kirk, the Ernie to my Bert, the Buzz to my Woody, I think you get the point. You are my partner in everything, and I am here today to commit myself to Team US for the rest of my life. You make me better by caring for me, taking care of me and always thinking about me and the boys needs before your own, but you also hold me accountable to being the best me I can be, call out my excuses and you make me think about planning when I want to wing it (and it usually works out better as a result). In short you make me a better me and I love you for it. I will do my best to support you and your goals in good times and in bad. I will be your biggest cheerleader, confident and proponent. I will love you unconditionally and take care of you in every way that I can. I told you this in another context years ago and it still hold true today, you are my Rock Star. And I would be honored if you would spend the rest of your life with me.