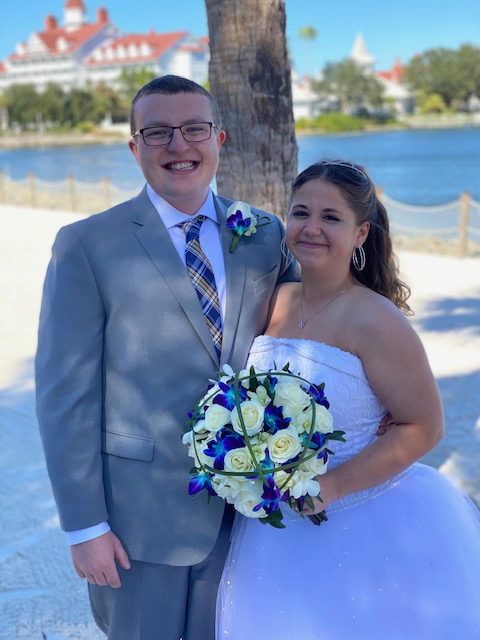 A Wedding at the Polynesian
Their Story

Douglas and Jaci chose to be married on the beautiful white beach of Disney's Polynesian Resort.  Orlando is a huge departure from Oshkosh and the white sand and Cinderella's castle in the background were the perfect location for the two of them.  Their wedding day was also extra special as Jaci's parents were celebrating their 25th wedding Anniversary.  So, with a little Disney magic when the ceremony concluded and Rev. Glynn Ferguson pronounced them husband and wife, the couple walked out, and handed flowers to Jaci's parents for them to come back in for a surprise on the beach with a vow renewal.  What a huge celebration!
Their Vendors
Lindsey from Disney Fairytale Weddings worked hand in hand with Jaci and Douglas to make sure their wedding ceremony and surprise on the beach was everything they ever wanted.   From helping them pick the perfect location to the type of flowers.  She was practically perfect.
Speaking of flowers.  The Walt Disney World Florist  did a superb job of capturing the traditional feel of the ceremony, mixed with the tropical location.  With a white rose bouquet, filled with midnight blue orchids, and a crisscross of lemongrass it fit them to a tee. The surprise on the beach was enhanced by their beautiful flowers.
Ty from Disney Fine Art Photography was right in the heart of it all.  Making sure to capture every moment of Jaci and Douglas'  wedding day.  From Jaci walking down the sidewalk to her ceremony location, the ceremony on the beach with family and friends, the surprise on the beach, and even capturing Stitch as he made a surprise appearance
Their Ceremony

Douglas and Jaci chose a contemporary, yet classic ceremony style and even chose wording for the surprise on the beach.  Using the ceremony planning kit from Sensational Ceremonies; they were able to pick out their ceremony style, vows, readings, etc.  They added a few things of their own and worked with Rev. Glynn Ferguson, a Walt Disney World officiant and owner of Sensational Ceremonies, to craft a ceremony that was as unique as they are.  With adding the poem "The One" and special touches like Rev. Glynn's homework assignment, it was perfectly them.For the homework Rev. Glynn asked them to each write and tell why they love each other.
Jaci wrote: Douglas, we have been together for 1,716 days. In that time we have grown together as a couple, we have grown together individually, and my love for you has grown immensely.
From day one I started falling in love with you because you were different from anyone else I have ever met. So different, in fact, that you used the smooth line of, "Yo, digits," to get my attention. Later on in our relationship you admitted that you said that out of nervousness, but those two words made me begin to fall for you and it is what began our story. Those two words made me laugh, it showed me how confident of a man you are, and it showed me that you had a sense of humor. Ever since then, my love for you has gotten stronger because of who you are as a person and because of how you treat me.
I love you because you keep me grounded and remind me to relax when I am stressed. I love you because you kill all the spiders and because you are the rock that Zeus and I lean on every day. I love you because of how protective you are of me and how you can make me laugh on my darkest days. I love you because you are my best friend and my personal cheerleader, supporting me in any and all decisions I make, even if you don't agree with them.
Douglas, you and I both know how indecisive I can be at times. But if there is one decision in my life that I know is the right one, it's to spend the rest of my life with you.We have been together for 1,716 days, and starting today, we get to start our forever together. I couldn't be happier because, Douglas, waking up with you by my side is like waking up in Disney World everyday. You are my happily ever after
Douglas wrote: After our first date and throughout our relationship Jaci never fails to surprise me. She is the most caring and loving person I have ever met and she pushes me to be a better person too. She is my best friend and I can be myself around her even though sometimes I know I can be just a little bit annoying. We have so much fun together whether it is going to a corn maze or going to disney we are both like little kids and it makes for an amazing time. When she looks into my eyes and smiles, I can't help but smile back because I can see how much she loves me. She makes me feel so special, like I'm the only person in the world that matters. She may not agree with every decision that I make but she supports me and is there for me no matter what, even when she gets those rare "I told you so" moments. Now I'm sure there are things that I left out but there is one thing that I know for sure, Jaci is the most amazing person that I have ever met and I can't wait to be able to call her my wife
We wish them happiness for a lifetime!!!