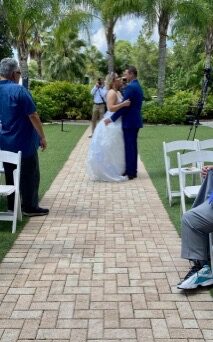 Amazing Dance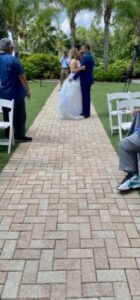 The marriage ceremony between Alexandra and Robert was indeed beautiful. Beyond the gorgeous setting at Paradise Cove with its lake, beach, and Cypress Trees hung with Spanish Moss, there was a different beauty. It came from the love that the couple had for one another. There was excitement as well. He had spent time working on special words as a surprise for her. She did not expect that. She cried, and he cried during the reading. It was beautiful how they held hands and let the words move over them. They danced at the end if their ceremony – right there in the aisle just as they moved past the last row of guests. That was amazing. Asher Grier owner of A-List DJ Entertainment , played a beautiful song for them. And they danced. There was so much love in that dance. It was like they had just met, and they saw, for the first time, the love that would be with them forever. Alexandra ad Robert do have a forever love. You can just tell from the way looked at one another during that amazing dance. Their photographer and videographer thankfully captured it all. Cricket Photography and Cinema got it all. And we cannot wait to see everything, as it unfolded.
Lon Tosi an officiant for the Orlando group of officiants with Sensational Ceremonies conducted their ceremony. But that was just part of it. Lon called the couple prior to the ceremony to review their options and to get to know them. The scheduled appointment was for 30-minutes. They all spoke for over an hour. They all laughed. Robert and Alexandra both have great personalities and it came through loud and clear to Lon as they spoke. Lon presented options for them, and they quickly picked a Sensational Ceremony that spoke about love, friendship, loyalty, fidelity and trust. That ceremony spoke to them. Along with the words that they wrote to one another, and that amazing dance, the ceremony was over-the-top gorgeous. They laughed, they cried, they held hands and they loved. That is all and everything that a wedding ceremony is supposed to be. Holding hands, and loving one another for the world to see. A commitment, a dedication, an oath.
Thanks to Jasmine at Paradise Cove for managing it all. Thanks to Amy at Blossoms for those fantastic florals! Pam at Frosting on the Cake did her magic once more. Alicia at Cocktails Catering did a fantastic job. The bridal party looked so gorgeous due to the great work of Shannon of Faces By Shannon. It wass all perfect. And of course, there as that amazing dance to top it all off! And it all happened on a sunny day in Orlando, Florida in the Shadow of The Walt Disney World Resort.