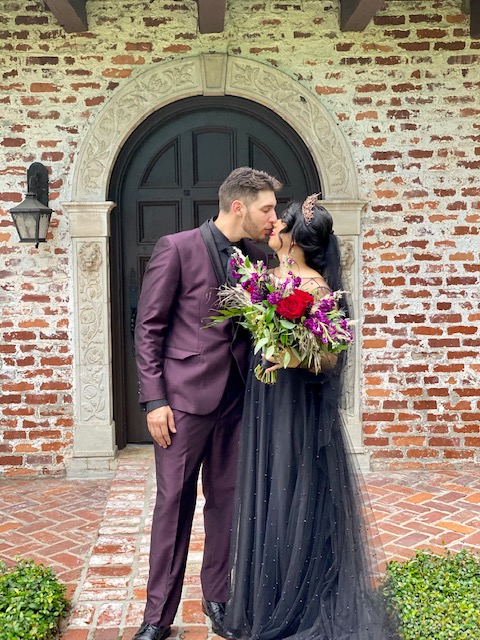 Maleficent Themed Wedding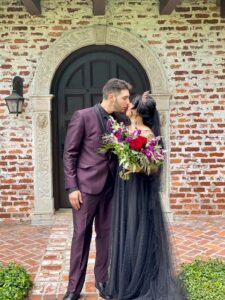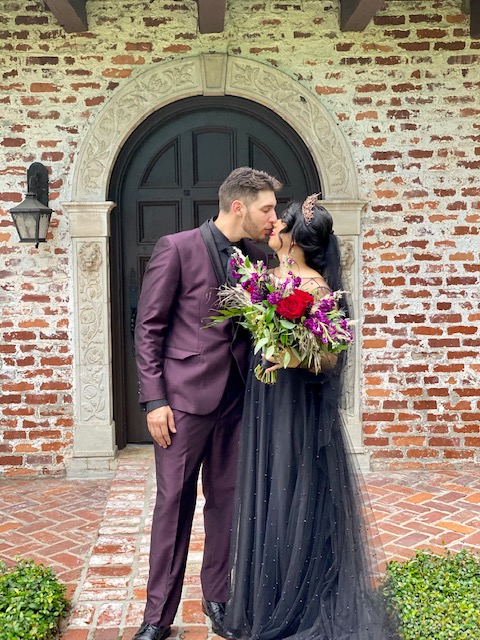 Weddings should be a great reflection of the couple that is having the wedding. For Rebeka and Adam their love for the different led them to create a Maleficent themed wedding.
The couple chose the beautiful historic Casa Feliz in downtown Winter Park as the venue for their Maleficent themed wedding. With arched doorways, lots of brick, and a small courtyard it was like a canvas they were creating on.
The couple picked an intimate ceremony package with Blush by Brandee Gaar to help them get the parts of their wedding puzzle together. With the all inclusive package they got the venue, videographer, flowers, and officiant.
Rhodes Studios brought the magic for this Maleficent themed wedding. With the talent of Edmund Rhodes the couple had a true professional recording their wedding day on video.
Flowers by Lesley worked her magic on this creative wedding. With silk black ravens, dark burgundy roses, and black branches that reached for the sky, it really was a Maleficent themed wedding come to life.
Rev. Glynn Ferguson, an Orlando wedding officiant and owner of Sensational Ceremonies worked with Adam and Rebeka to create a custom religious ceremony that fit well with their style. Standing between two black windows for this Maleficent themed wedding he told of asking them to write and tell him why they love each other.
Rebeka wrote: I love…
The way you put everyone first before yourself How you love with all you have until your heart may explode How you don't eat until I sit next to you (with the children fed first) How every day, you say you love me after every conversation over text or call How you tell me almost every hour of the night and day when we are together, you tell me you love me How even though you are tired, you make time for my children and myself after a hard day at work (even though he sleeps a couple minutes during) How you still keep chivalry alive and are still a gentleman How you always play in our routine of messing around with each other before bed (or else I can't sleep right, kind of my fault) How you always ask for 3 kisses before laying our head down on our pillows (he would wait if I only give 2 kisses, he'll wait for the last one before laying his head down) How you discipline the kids as your own (even though he rambles the lecture over and over, it is appreciated) How you are brutally honest and do not sugar coat anything, you speak your mind, and are a bad liar How patient you are with being intimate with me, even though I may starve you, but you have shown me more love is possible than just being physical.
How you are the first relationship I have had where my children have accepted and loved you in such a short amount of time. (They saw the great person that you are) How you show interest in my children's hobbies and are very much involved for achieving their goal (including mine) How your smile is not perfect, but once I see it, everything is ok (including his middle tooth that stands out) Most of all, how you love me for me and all my imperfections and weirdness that I am with no questions.
Adam wrote: So ever since we were just friends working together she always caught my eye. She carries herself with so much respect and strength that it awed me. Now all these years later I've seen her be an amazing mother who cares so hard about Saphira and Jason. I also see her pour her heart into what she loves. I love that we can be ourselves around each other. We are constantly messing with each other and getting on each other's nerves in the best way. My life has become so bright since her and the kids have entered it. Honestly I can't wait to keep growing together and pushing each other to be better and to strive to accomplish our dreams. On that note talking about dreams. I've helped and watched her start building her floral business and I really am amazed how hard she works and how much she strives to accomplish her goals. It's an inspiration and I hope that I'll be able to inspire her in our lifetime as much as she has inspired me.
V's Catering really got in the spirit of this Maleficent themed wedding. With a black wedding cake of Almond Amaretto Dulce de leche and Chocolate Mocha, it was delicious.
We wish Rebeka and Adam a happily ever after.