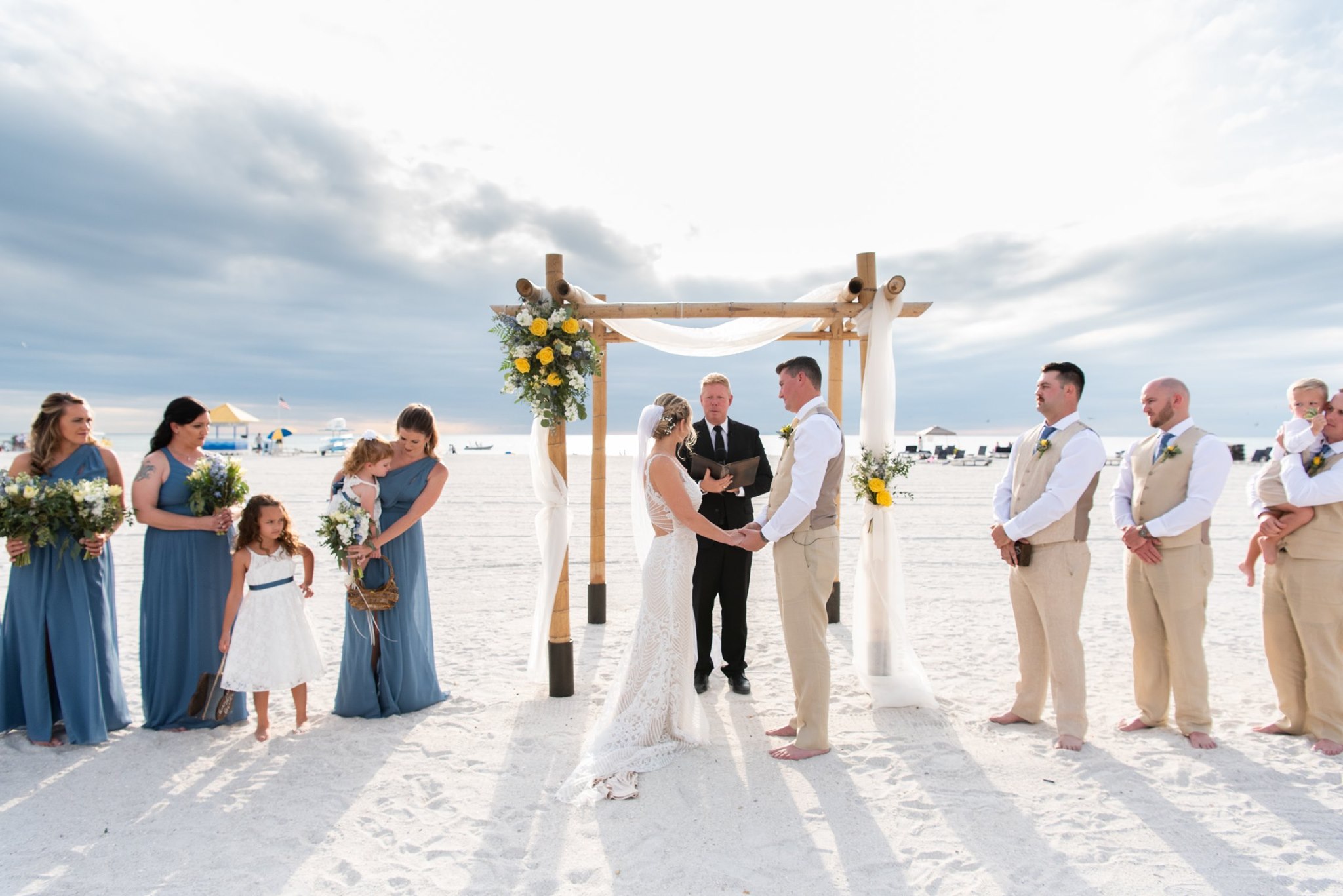 Beautiful Beach Wedding
Their Story
Khristina and Donald met while working, fell in love, and just loved the idea of having a beautiful beach wedding. After visiting the property before they knew the Sirata Beach Resort in St. Pete Beach was the perfect location for their ceremony and reception. With beautiful white sand beaches, the Gulf of Mexico as their background, and a rooftop ballroom, it checked off all the boxes for them.
The Team
With advice from family, friends, and their connections in the industry Khristina and Donald were able to put together a super team of vendors to make their dream of a beautiful beach wedding come true.Caroline & Evan Photography did an amazing job of capturing every moment of the couple's day. From getting ready pictures in their suites, ceremony pictures on the beach, family photos after the ceremony, and on into the reception, they captured it all.Petit Four Films worked side by side with the photographer and the other vendors to make sure they captured every moment on video. From the bride's father's first look to the first kiss as husband and wife, they worked hard to tell this love story of this beautiful beach wedding through video.Expert Productions provided the DJ and lighting for the reception. Their DJ kept the introductions short and sweet and kept the wedding party on the dance floor all night long. Wonderland Floral Art crafted the beautiful bouquets for the ladies, and boutonnieres for the men, but also made the incredible floral pieces for the bamboo arch the couple married under. Khristina's amazing bouquet contained white roses, blue delphinium, and silver dollar eucalyptus.
Their Ceremony
Rev.Glynn Ferguson an Orlando officiant and owner of Sensational Ceremonies was a friend of the bride's family and so he traveled over to make sure their ceremony was absolutely flawless. Their beautiful beach wedding ceremony was filled with both laughter and maybe a few tears of joy. Rev. Glynn gave the two of them a homework assignment, to write and tell him why they love each other.
Khristina wrote:
When I first met DJ it was unexpected, then next thing I knew I was falling for a smooth talking, endearing, fun, and witty young boy and over the years I watched him become a man. A man that I knew would always support for me, always make me feel safe, always love me and always protect me. That is when I had no doubt in my mind, I wanted to spend the rest of my life with him.
We have had countless good times and made even better memories over the past 5 plus years but good times are easy, anyone can handle good times, it was the numerous trials we endured and the work we put into this that made me fall in love with him because I knew we had become unbreakable. They say true love is not found, it is built, and we built it. Perfect didn't fall into our laps, we worked for perfect, we fought for perfect and we earned perfect. There will always be hiccups, but this is our perfect and I know we will make it through anything (even football season and his loud chewing). He is my safe harbor, my rock, my lifelong best friend and what my heart knows to be home.
"From this day forward you shall not walk alone; my heart will be your shelter and my arms will be your home"
Donald wrote:
Khristina, you came into my life at the perfect time, I was a young man whom was still trying to find himself, you helped me find the man I always knew I wanted to be. The past 5 years have been full of incredible triumphs and some literal disasters, regardless of the circumstances, one thing never changed. These trials proved to me that we can push through any and all boundaries, we can endure far more than what we thought we were capable of, and in the end, we will always fall forward, the same as we started, together.
Khristina, as your husband, I vow to always pick you up when you are down, even if its football season and the Dolphins have another season like this year. I promise to love you with the same determination and confidence you have always given me, to remember that our love is stronger than any obstacle or stumbling block; and to always put you first and support you in any and all courses of life. Lastly, I vow to always remember that life is about the journey not the destination and that in life its not where you go, it who you travel with.What an amazing wedding! We wish them happiness for a lifetime!