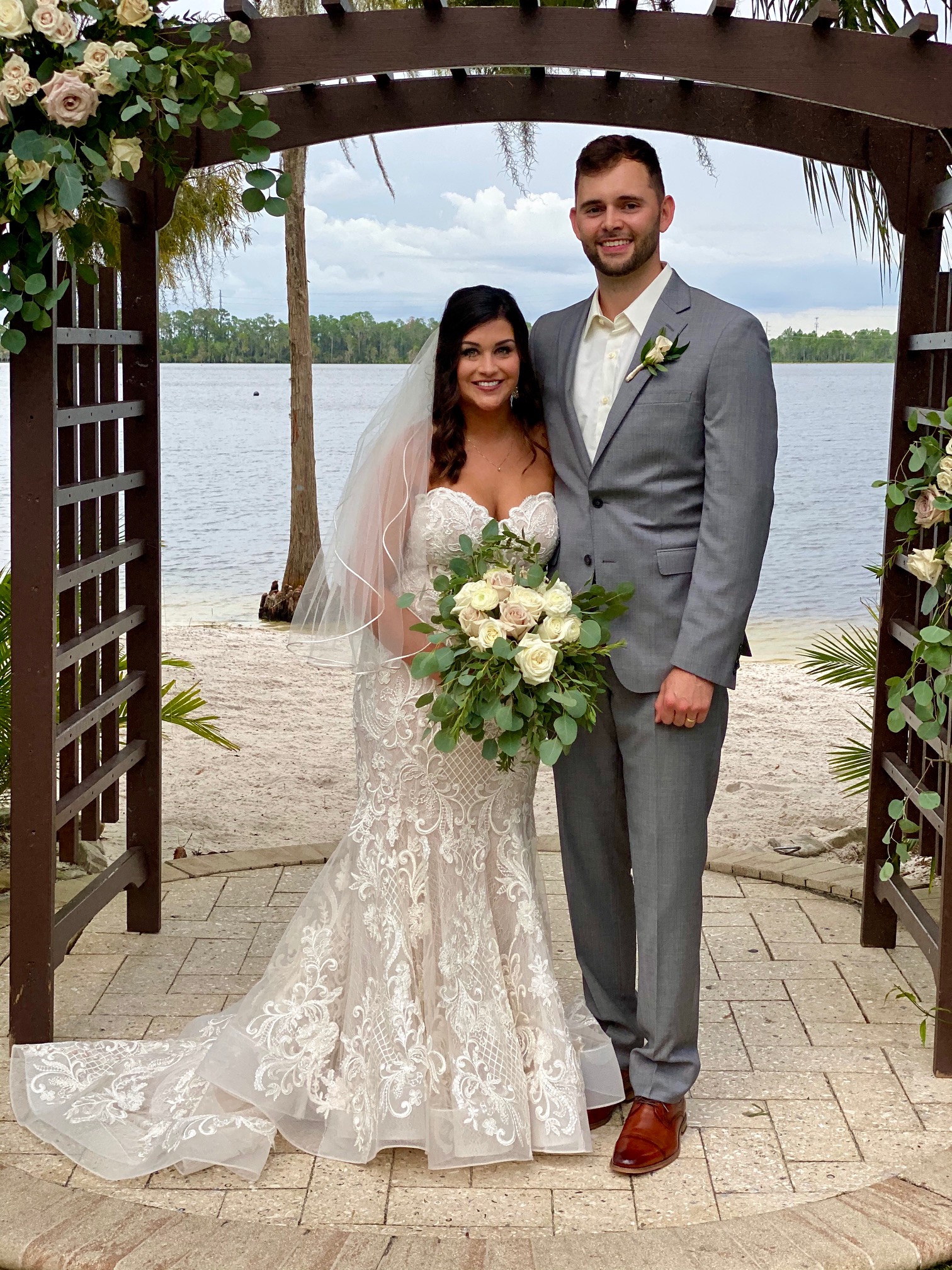 Escape Wedding
Their Story
Lydia and Gregory loved the idea of a wedding in a warmer climate that of their home state of Pennsylvania.  When they found the beautiful tropical Paradise Cove in Orlando they knew that had found the perfect spot for their escape wedding.  With a sandy beach behind them, palm trees over them, and family and friends before them, they spoke their vows, exchanged wedding rings and became husband and wife.
Their Team
Daniel with Paradise Cove worked with Gregory and Lydia to plan their escape wedding and connect them with the very best wedding vendors in Central Florida.  Castaldo Studio provided the photography and videography of the ceremony and reception.  Their beautiful artful style captured every moment.  From family pictures, the ceremony, cocktail hour, and on into the reception the Castaldo team captured every moment.
The exquisite white and gold  wedding cake by Cut the Cake was absolutely delicious.  With roses cascading down and around the side of the cake it really was beautiful.
Atmospheres Floral and Decor provided the roses for the cake and the beautiful bouquet for the bride and boutonniere for the groom.  With garden roses and silver dollar eucalyptus cascading from the center Lydia's bouquet was gorgeous.
As the guests were beginning to arrive Christine MacPhail tickled the strings of her harp and made the most incredible music.  From classical to modern classics, the music selections were varied and yet fit every portion of the ceremony and cocktail hour.
  Rev. Glynn Ferguson an Orlando wedding officiant and owner of Sensational Ceremonies worked with the couple to craft an exceptional custom ceremony for their escape wedding.  Rev.Ferguson gave Gregory and Lydia an assignment to make their ceremony very personal.  He asked them to write and tell him why they love each other
.Lydia wrote: Everyone who knows me, knows that i depend on my moms advice for everything. Growing up, her advice was to find a man who made me feel safe like a security blanket. And That's exactly what Greg is to me. He's the person who can calm me down and make everything feel ok, even when the rest of my world comes crashing down.
He thinks that I'm the strong one, but that's because he brings out the best parts of me. He's my best friend, the only person i can be completely and unapologetically my goofy, terrible dancing self with.
I love that he's a little nerdy- even if i could still kick myself for buying that Xbox.  And he has killer dimples.
I love him for more reasons than i could ever list, if I really started I'm not sure i could ever stop. But i do know that from the moment i met him, i knew that if any girl got to spend the rest of their life with Greg, she would be the luckiest girl on the entire planet. And sometimes I have to pinch myself- because i can't believe it's me.
Gregory wrote: You have been my best friend for some time now and I am always grateful I have you in my life.  Every time we see each other after a long day at work is favorite part of each and every day.  I love how thoughtful and caring you are to me, our family and everyone that is close to us. Your tastes and sense of humor always keep me smiling and laughing no matter the mood.  Words cannot express how lucky I am to spend the rest of my life with you, and I cannot wait to start this journey as husband and wife.
We wish them happiness for a lifetime.