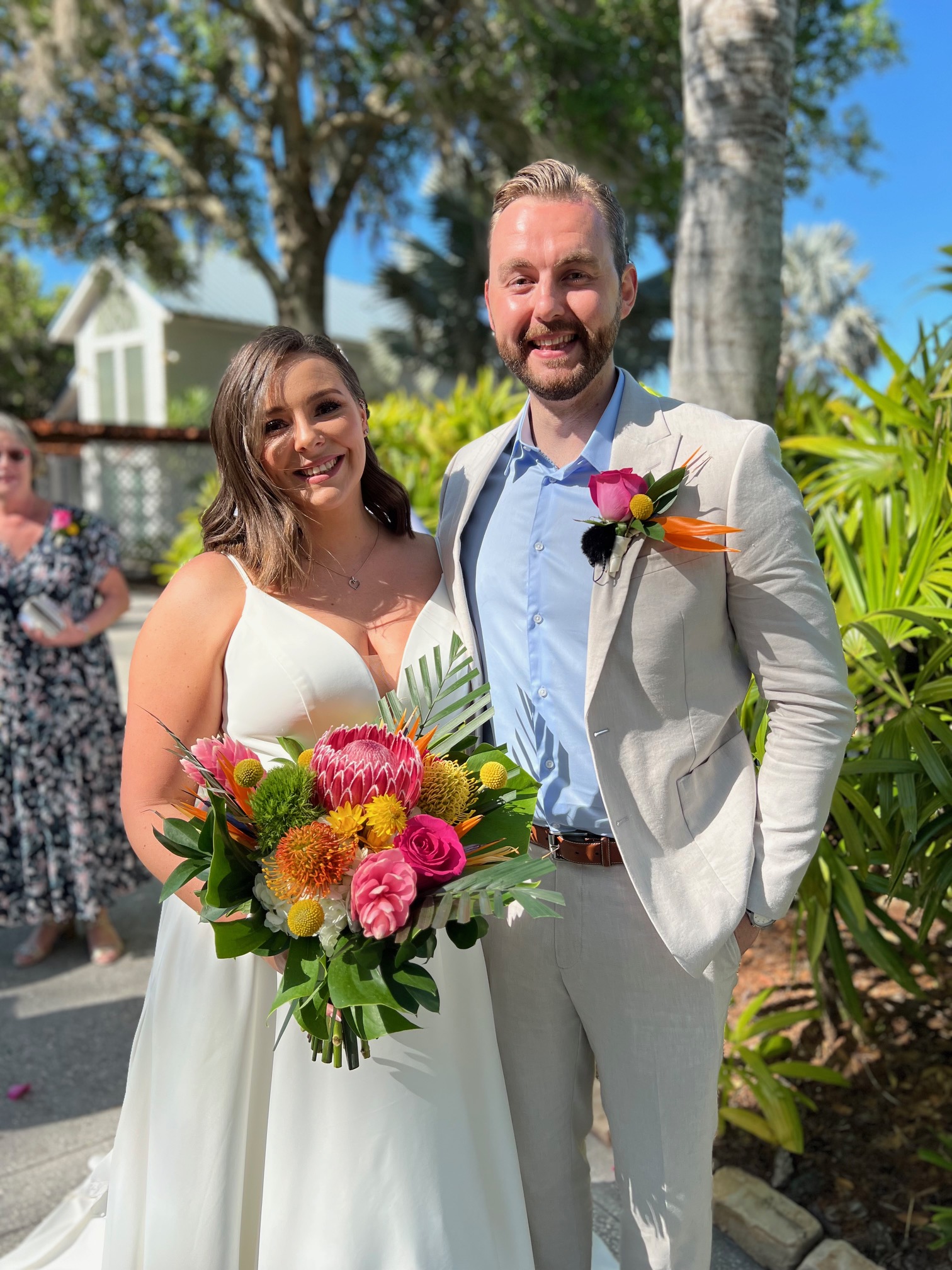 Beth and Simon
Beth and Simon traveled from the United Kingdom to get married in Orlando, Florida at Paradise Cove. The couple worked with Jasmine at Paradise Cove to bring the vision of the wedding to life.
'Jasmine worked with Beth and Simon to bring together an incredible group of vendors to make everything fit like a glove. From their delicious cake by Fronting on the Cake to Hawiian dancers with Aloha Productions Jasmine connected them with the best.
Kristen with KMD Photo and Film really stepped up to the plate for Beth and Simon. She made sure to capture every shot the couple wanted, do family portraits, and gave them all sorts of great ideas for fresh and innovative shots that they can cherish for a lifetime.
Amy with Blossoms Orlando knocked it out of the ballpark. From tropical floral decor for the bouquet and boutonniere to the arch and tables, Amy really made it feel like a tropical paradise for Beth and Simon.
When you're coming to Florida to get married one of the big things you need is a Florida Marriage License. Jasmine connected Beth and Simon with Married by Mail. Married by Mail made the job of obtaining a Florida Marriage License super easy. With a few short emails and a notary stamp, they were good to go on their wedding day.
For their ceremony Beth and Simon were introduced to Rev. Glynn Ferguson, the owner of Sensational Ceremonies and an official Walt Disney World wedding officiant. Rev. Glynn worked with them to create a custom ceremony that was filled with laughter and maybe a few tears. His speciality is making ceremonies super personal and to do this he gave them a homework assignment to write and tell him why they love each other.
Beth wrote: Simon is one of the most selfless people I know. He's cool, calm and collected and, with him, I know that everything is going to be okay. I don't know a single person who doesn't like Si and I'm proud to be his number 1 fan.
With Si, nothing is too much trouble. We share things equally and we share the same wicked sense of humour.
He's so kind, thoughtful, generous and warm and I love how he treats me, and everyone around me with love and respect.
I love how much he loves our dog, Minnie, and how, even after a bad day, he always makes me smile.
Simon wrote: When I think of all the reasons why I love Beth, so many memories come to mind. Our first date to see the Great Gatsby…and then our second first date 5 years later. All our adventures and holidays, from sea kayaking in Croatia, exploring every inch of Venice together, eating pizza next to the Adige river in Verona and getting engaged in Wales.
I love the way Beth spontaneously breaks out into songs from her favourite musicals, without warning, providing me with a permanent front row seat to my favourite performer of all time.
Beth never fails to make me feel better, when I've had a difficult and exhausting day. Beth brings out the best in everyone she meets and she is loved by many. She is beautiful, talented and kind. For this and so many other reasons, I'll love her always."
Congratulations Beth and Simon. It was so wonderful to work with you and we wish you happiness for a lifetime.
Sensational Ceremonies
Average rating:
0 reviews