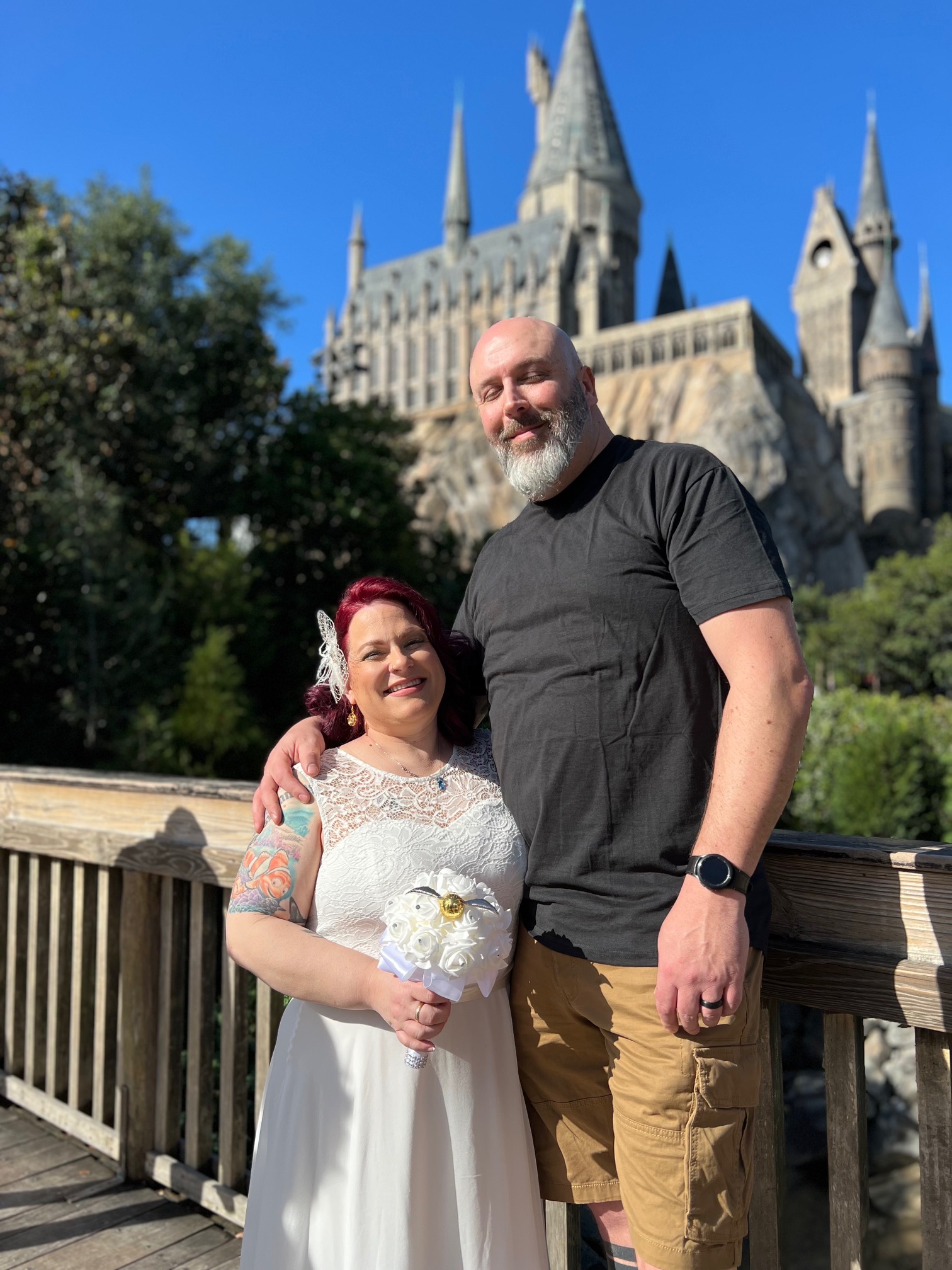 Heather and Ken
Heather and Ken traveled from Delaware to come get married in front of Hogwarts Castle at Universal Studios, Orlando, Florida. When the couple saw pictures of an elopement at Hogwarts, they immediately contacted Victoria with Intimate Weddings of Orlando.
Victoria explained the process of getting married in the park, provided information about a Florida marriage license, and answered any questions that they had. She also recommended things to do with their kids
Heather and Ken worked with Rev. Glynn Ferguson, the owner of Sensational Ceremonies and an Orlando wedding officiant, to create a beautiful custom ceremony that fit the two of them like a glove. The ceremony included the Irish Wedding Blessing and blended family vows, with their three children.
Rev. Ferguson also gave them a homework assignment to write and tell him why they love each other.
Heather wrote: How do you put into words why you love someone?
My gut instinct is to say "idk I just do." I don't have set reasons… I love him for who he is as a whole, and who I am when I'm with him.
When I met Ken, I'd say I was "faking it until I made it." It was about 2.5 years after my (first) husband died. I was surviving but not truly living. I quickly fell for him, even though I swore that wouldn't happen. He chose to be the father my daughter never had and watching him be a great father to his own made me love him even more. Ken is the perfect mix of little kid and old man, tough guy and teddy bear. He makes me laugh every day. He gets under my skin almost as often as I do to him. Our relationship hasn't always been easy but it's one that I knew early on that I wanted to work for. Over the years our relationship has only gotten better and our love for each other stronger. I know that whatever life throws at me, he'll be right there to help me through it. When I need him, he always comes through (especially when I mess up my Lego sets and he has to come to my rescue.) He often knows me better than I know myself. He is my person. We are a great team. We take care of each other and face the world together. The way he looks at me and thinks of me makes me feel loved every day. He makes my happiness a priority and is my biggest cheerleader.
Ken wrote: To my soon-to-be wife, Heather,
I love that you see the best in me, even when I can't.
I love catching you looking at me and the way it makes you smile.
I love how you love my kids as if they were your own.
I love the little giddy noises you make when something makes you happy or you see something that's funny to you.
I love how passionate you are when helping animals and others.
I love watching you smile and seeing that sparkle light up in your beautiful eyes.
I love knowing I've got you in my corner and feeling reassured that you'll be there for our kids and family no matter what.
I love you in every way and in more ways than I can express!
The great team of vendors also included Edmund with Rhodes Studios and Chris with Captured by Chris. These wonderfully talented photographers captured every moment of the Heather and Ken's wedding ceremony and then more family pictures around the parks.
Congratulations to Heather and Ken!!!
Sensational Ceremonies
Average rating:
0 reviews