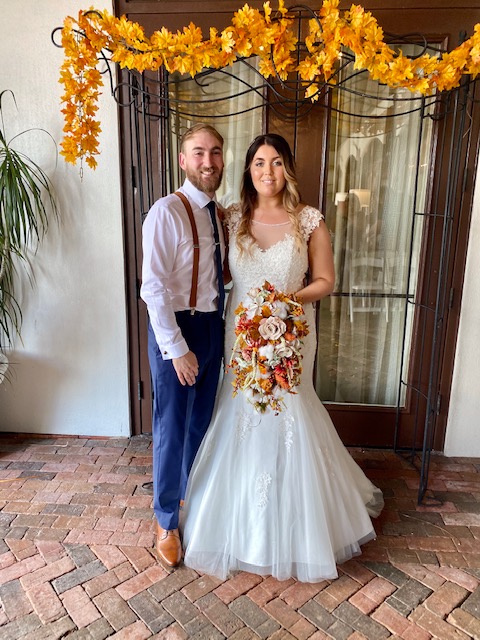 Ceremony in Celebration
Their Story
Faye and Martin fell in love in England, but wanted to celebrate their wedding with a ceremony in Celebration, Florida.  This storybook village that Disney built was the perfect location for their wedding ceremony.  There on the banks of the village lake, at the Bohemian Celebration Hotel, Martin and Faye became husband and wife.  
Their Team
Ryan with the Bohemian Celebration, put the happy couple in contact with some wonderful vendors, to make their vision for their ceremony in Celebration come to life.  Even though this was going to be a small affair, with about twenty guests, they still wanted everything to be absolutely perfect.
With a Fall theme throughout the ceremony and reception they hired Runway Events to coordinate every aspect of the wedding day.  From creating schedules of hair and makeup, to setting out pumpkins and Fall foliage for decorations, they kept everything running smoothly. 
 The couple didn't want the hassle of having to get their marriage license from the courthouse when they arrived, so they contacted Married by Mail to acquire their Florida Marriage License for them before they ever got to town. 
 Kaila with Kartsie Photography took great care to capture every moment of the couple's ceremony in Celebration.  From photos of the wedding party getting ready, the arrival at the hotel, the ceremony, and on into the reception, she got it all. 
Rev. Glynn Ferguson, an Orlando officiant and owner of Sensational Ceremonies, worked with the couple via email and skype to create a one of a kind custom ceremony, that fit the two of them.  He also gave them an assignment to make the ceremony in Celebration unique to them; to write and tell him why they love each other
.Faye wrote:  Dear Martin I can't belive the day is finally here after 12 lonngggg! amazing years together. I know some people say that marriage changes a couple but I know with us we will go on exactly as we are and That fills me with happiness. I can't wait to spend the rest of my life with you and go on to create many more amazing memories together all my love Faye
Martin wrote:  It's hard to pinpoint exactly why I love Faye; there are so many things about her that I love: the nicknames she calls me, how good she is with our nieces and nephews, her determination and how hard she works, how she makes me want to be a better person. But I'd say the reason I love her is because of how she makes me feel when I'm with her – wherever we are, that's the only place in the world I want to be because that's where she is, that's where I'm happiest.Congratulations to the happy couple.  We hope you will keep in touch when you come back for more Disney magic.