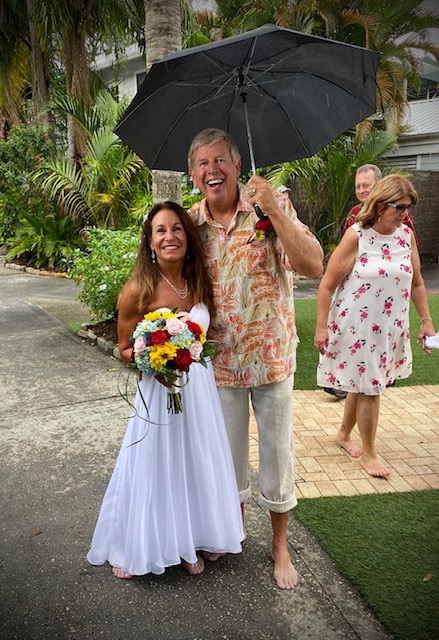 Second Chance at Love
Their Story
Gail and Randy met after he moved to The Villages, just northwest of Orlando, Florida. Both having been married before, were not really looking for love, but love finds a way and they fell in love with each other and had their second chance at love. The care-free couple that they are, they wanted something a little different than the stuffy church wedding, so they decided on the beautiful  Paradise Cove for their second chance at love.  Even a short sprinkling of rain at the end of the ceremony, just added to the whimsical feeling of this day.
The Team
Courtney with Paradise Cove really took the lead in helping Randy and Gail pick the perfect team for their wedding. Her years of experience in the wedding industry made it seem simple to make their vision come to reality.
Dominico Castaldo with Castaldo Studios was there to capture every moment of their second chance at love and marriage.  From the walk down the aisle, the ceremony, the first kiss as husband and wife; he got it all!
Blossoms Orlando worked her magic to create a beautiful tropical bouquet and matching boutonniere for the couple.  With red roses, pink roses, blue hydrangeas, yellow sunflowers, and blue thistle it was absolutely amazing.
Rev. Glynn Ferguson, an Orlando officiant and owner of Sensational Ceremonies, worked with the couple to create a beautiful custom ceremony for their second chance at love.  He let them choose options from a ceremony planning kit, they added a few things of their own, and then he gave them an assignment to write and tell him, why the love each other.
Gail wrote:  Randy is the kind and gentle Christian man that I have prayed so many years for. Having come from an abusive marriage I never imagined I would trust another man, let alone consider marriage again. I love that Randy is a man of the highest integrity and I never have to guess what he is thinking or if he will fail to be consistent. I love that Randy always makes me feel safe. I can count on him to take care of me in any type of situation and that he will always have my back. He truly nurtures our relationship with his ability to communicate and also to compromise when appropriate. We have deep trust and loyalty that enables each of us to have time to pursue some individual interests. I love his ability to make me laugh each and every day. That is priceless to me! I love that he lives an active lifestyle and is inquisitive about new adventures/places to travel. I love listening to him play his guitar. We both need music in our lives, especially in our hearts. We refer to each other as 'goof ball' in a loving manner as we are similar in our sense of humor. I love his need for intimacy – holding hands every day, cuddling at night and never going to sleep without saying I love you. He is truly the man of my dreams. I feel loved, safe, secure and above all respected. With him I was able to be called grandma even though I have never been blessed with my own children. We have traveled to Paris, Rome, and London; taken a motorcycle trip down Highway 101; camped in beautiful forests; retired to Florida. We know we are truly blessed and greet each other and each day with open eyes, hearts and minds.
Randy wrote:  I love that Gail is so young at heart. She has such a funny dry sense of humor.  I love the fact that she is extremely active, and open to new experiences. Golf, water parks, Disney. I could not have found a more perfect travel partner. I love that she will take my hand when we walk, and kiss me at a curb. (Only because it puts her at a equal height).  I love her giggle and her happy tears after church. I love the way she treats the girls and the grandma role she readily accepted. To see her with Vivian makes my heart, and hers soar. Last but certainly not least, I love the way she understands my soul and my past life, loving me for who I am.Congratulations to the two of you.  May you be blessed with many happy days ahead!