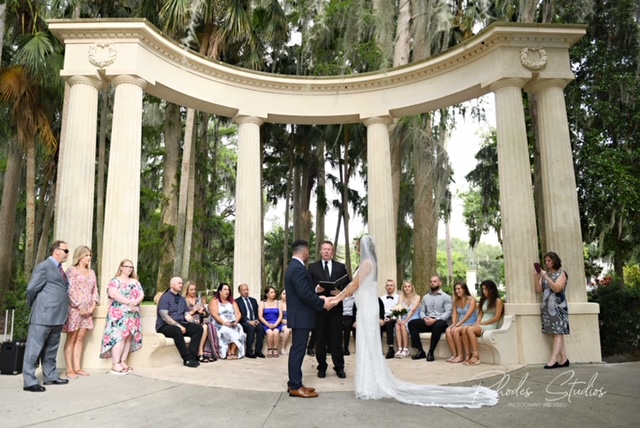 Courtney and Allen
Courtney and Allen came from South Florida to get married at the beautiful Kraft Azalea Garden in Winter Park. Surrounded by their family and close friends the couple took their place in front of the Exedra with their guests facing the beautiful Lake Maitland.
Courtney and Allen contacted Intimate Weddings of Orlando to help them pick the perfect spot for their wedding. Victoria, with Intimate Weddings of Orlando talked them through the process and helped them pull together an all inclusive package that would fit the two of them.
Getting your Florida Marriage License has never been easier. As Courtney and Allen found out, they used Married By Mail to help them get their license quickly, while they worked on all the other details of their wedding.
Edmund with Rhodes Studios really loved working with this couple. Their laid back ease on their wedding day made photographing the couple, their ceremony, and their family a breeze.
For their wedding day flowers Courtney and Allen chose Flowers by Lesley to craft the beautiful bouquet and boutonniere of lite pink roses and greenery. It made the perfect addition to a ceremony held in a garden.
For the officiant services Courtney and Allen turned in to Rev. Glynn Ferguson, the owner of Sensational Ceremonies and an Orlando Wedding Officiant, to help them make their intimate destination wedding personal and meaningful. Rev. Ferguson gave the two of them a homework assignment to write and tell him why they love each other.
Courtney wrote: What I love about Alan:
Where do I even start, I love how he loves so deeply, how selfless he is and how he always puts my first. He's hardworking, compassionate, and never fails to make me laugh. During tough times he never gives up.
Allen wrote: Why I love Courtney , I love her for the spark she has for life , the goals she has set and her great ambition of wanting more knowing, we are such an amazing team together, and will push each other. Her love she has for everyone and everything around her is truly remarkable, her beautiful green eyes, her gorgeous smile, the sound of her laughter, and her loyalty. She has shown me how someone should be loved, feel safe, feel secured, feel cared about and comfortable to be able to communicate with each other openly everyday. Being with her means being filled with happiness everyday, watching her grow everyday as a person with that amazing spark she has within her is one of the many reasons I fall for her more every single day.
Congratulations Courtney and Allen. We wish you happiness for a lifetime.