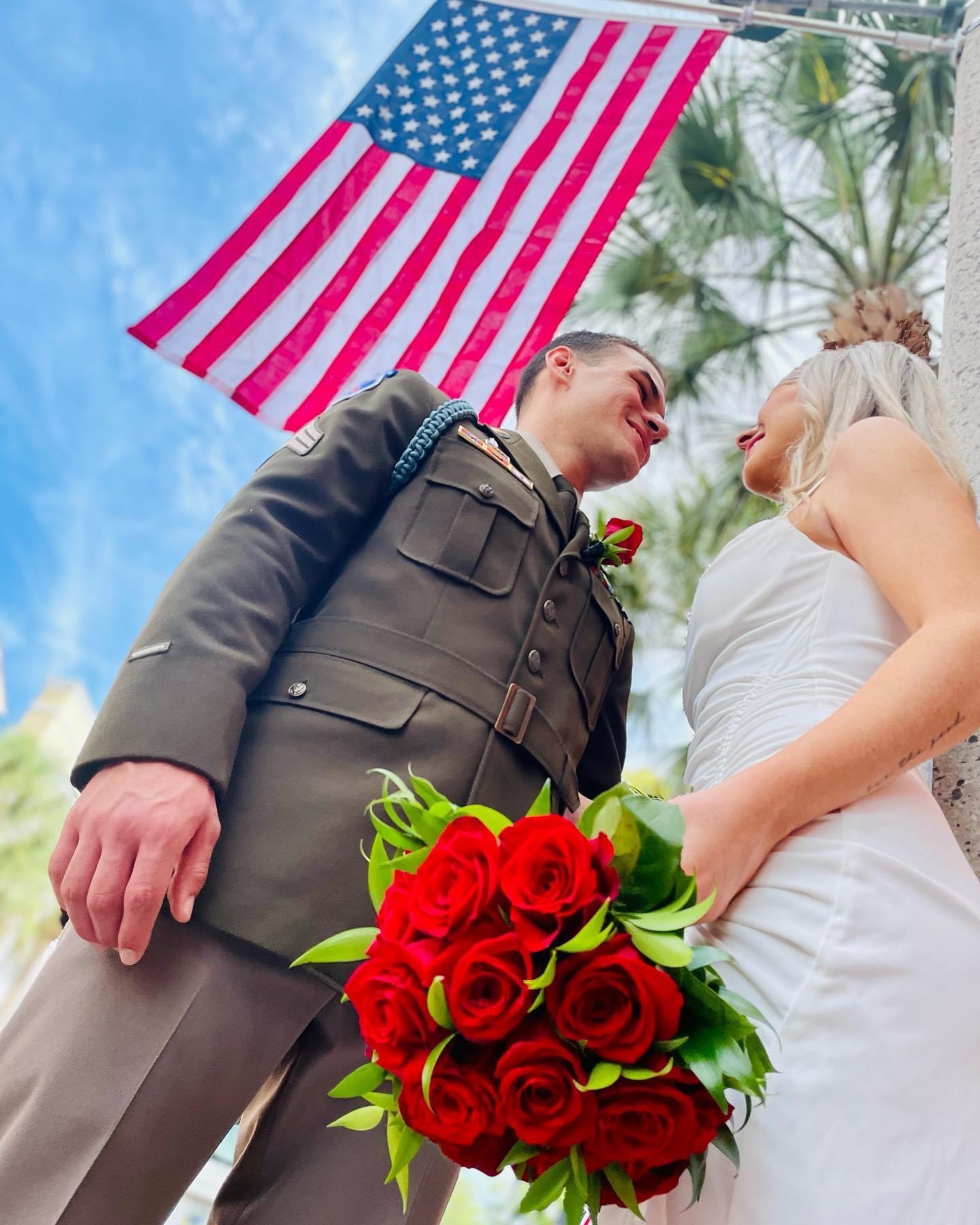 Gil and Taylor
Gil and Taylor contacted Intimate Weddings of Orlando because they wanted a private intimate elopement and were looking for something that was budget friendly.
Victoria with Intimate Weddings of Orlando talked them through their options. From helping them pick the perfect location to finding the best fit for vendors, Intimate Weddings of Orlando really took care of Gil and Taylor on their big day.
Flowers by Lesley took Gil and Taylor's request for something simple, yet bold and beautiful and crafted a bouquet and boutonniere in vibrant red to match what they were looking for.Christopher Smith with Captured by Chris really did capture every moment of Gil and Taylor's elopement. From their ceremony in a shaded square to photos of them walking down a tree-lined allées. With Gil in his uniform and Taylor in an ivory dress, the flags around the square were reminiscent of decades gone by.
Rev. Glynn Ferguson, an Orlando officiant and owner of Sensational Ceremonies, worked with Gil and Taylor to create a beautiful custom ceremony that was filled with their love for each other. Rev. Ferguson gave Gil and Taylor an assignment to write and tell him why they love each other and he incorporated that into the ceremony.
Taylor wrote: What I love about Gil is his ability to see and appreciate the little things in life, and his passion for the things that he loves, whether it be his career or his favorite movie that he just has to see first, even if it's without me. He's dedicated and hardworking and takes pride in everything he accomplishes. Gil is loving and supportive of everything I do and would do anything for the people that he loves. With everywhere we go we always find a way to make it fun and memorable, even if things don't go as planned, and I've enjoyed all the little adventures we've been able to take together. He's truly my best friend and I can't wait to live the rest of our lives together.
Gil wrote: The reason why I love Taylor is because she's the most trustworthy, and genuine person I've ever known. She was there for me during my rough days coming back from Afghanistan. She taught me to love myself and to fight for what I want. But what I love the most about her is that she's mature, self-confident, and intelligent.
Gil and Taylor congratulations on your beautiful elopement. We wish you happiness for a lifetime.