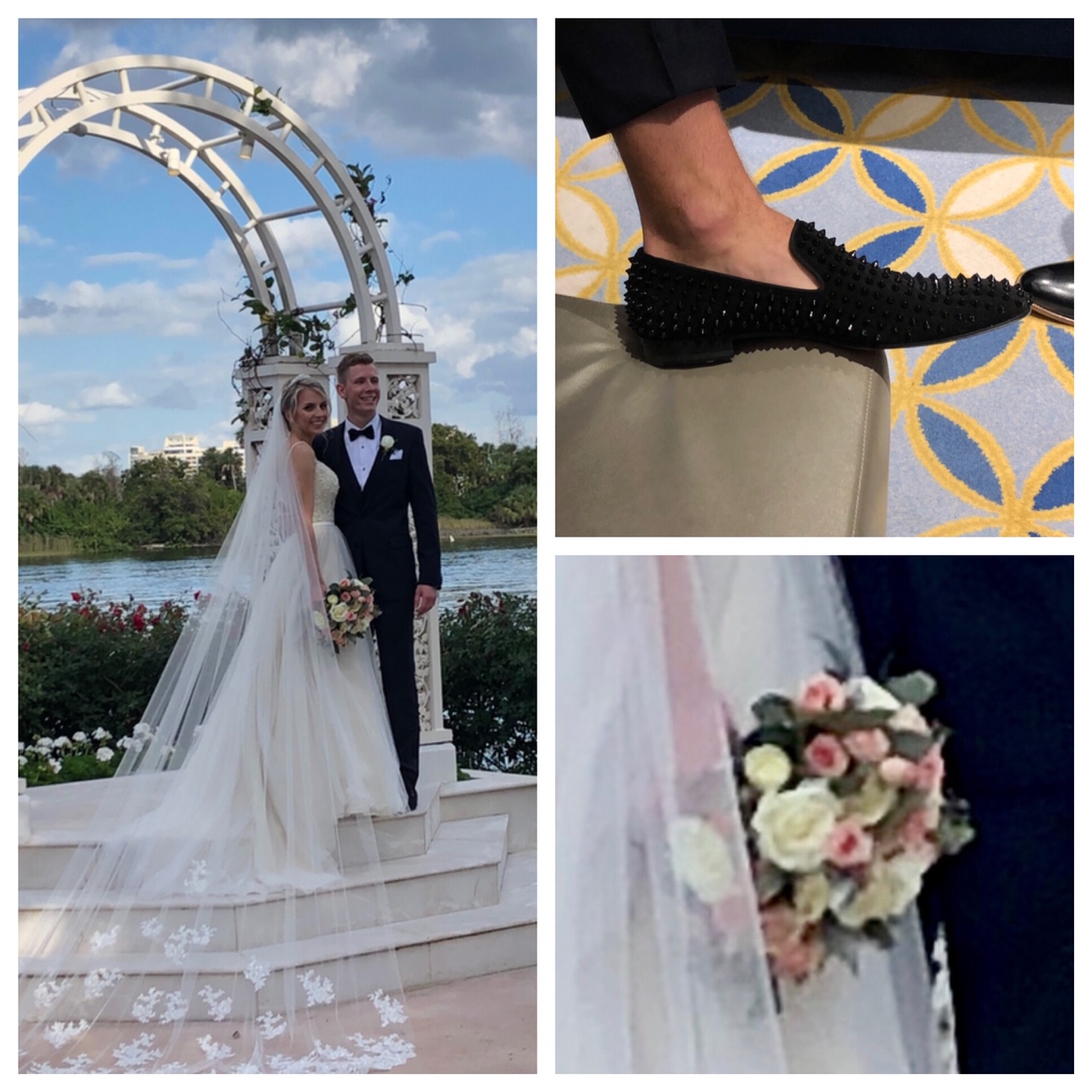 Oh Those Shoes!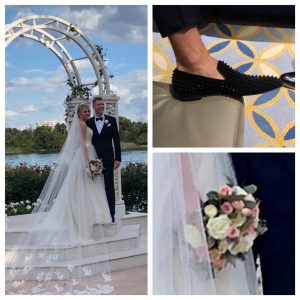 Many many times I have seen the bride walk down the aisle with custom or at least very expensive shoes, but seldom does the groom rise to the occasion to match her. Jakub, what can I say. Oh those shoes!
Jakub and Sarah are such a beautiful couple and they both have a love for fashion. Jakub told me at rehearsal that he really loves to dress up for his bride and it was ever so evident when on their wedding day he walked down the aisle in the Walt Disney World Wedding Pavilion, wearing black slippers cover in Swarovski crystals by
Christian Louboutin
. NOW THAT IS A FASHION STATEMENT.
Sarah looked stunning in her gorgeous dress with a cathedral length veil and she also wore Louboutin shoes (though they were hidden under her stunning dress.)
Hannah from
Disney Fairytale Weddings
coordinated the day for the beautiful couple. After photographs at the Grand Floridian Resort the groom and his posse headed over to the Wedding Pavilion via a stretch white limousine, while Sarah arrive later in Cinderella's carriage, pulled by six white horses.
The flowers by the
Walt Disney World Florist
, for the couple were a blush and darker pink and truly accentuated the couple's choices.
Rev.Glynn Ferguson
with
Sensational Ceremonies
worked with the couple to create a beautiful custom ceremony. The deeply religious ceremony was perfect for the two of them. It included the Blessing of the Hands: "Jakub and Sarah these are the hands of your best friend, young and strong and full of love for you. They are being held by yours on your wedding day as you promise to love each other for the rest of your lives. The hands that you hold are the very hands that will work alongside yours as together you build your future and share your innermost secrets and dreams together. These too are the hands that will passionately love you and cherish you through the years, and with the slightest touch will comfort you like no other. These are also the hands that will hold you when fear or grief, threaten to overwhelm you. These too are the hands that will countless times wipe the tears from your eyes, tears of sorrow and tears of joy. These are the hands that will tenderly hold your children. These are the hands that will help you to hold your family as one. And these are the hands that will give you strength when you need it the most. And lastly, these are the hands that even when becoming wrinkled and aged will still be reaching for yours, still giving you the same unspoken tenderness with just a touch."
We wish for them their very own happily ever after!