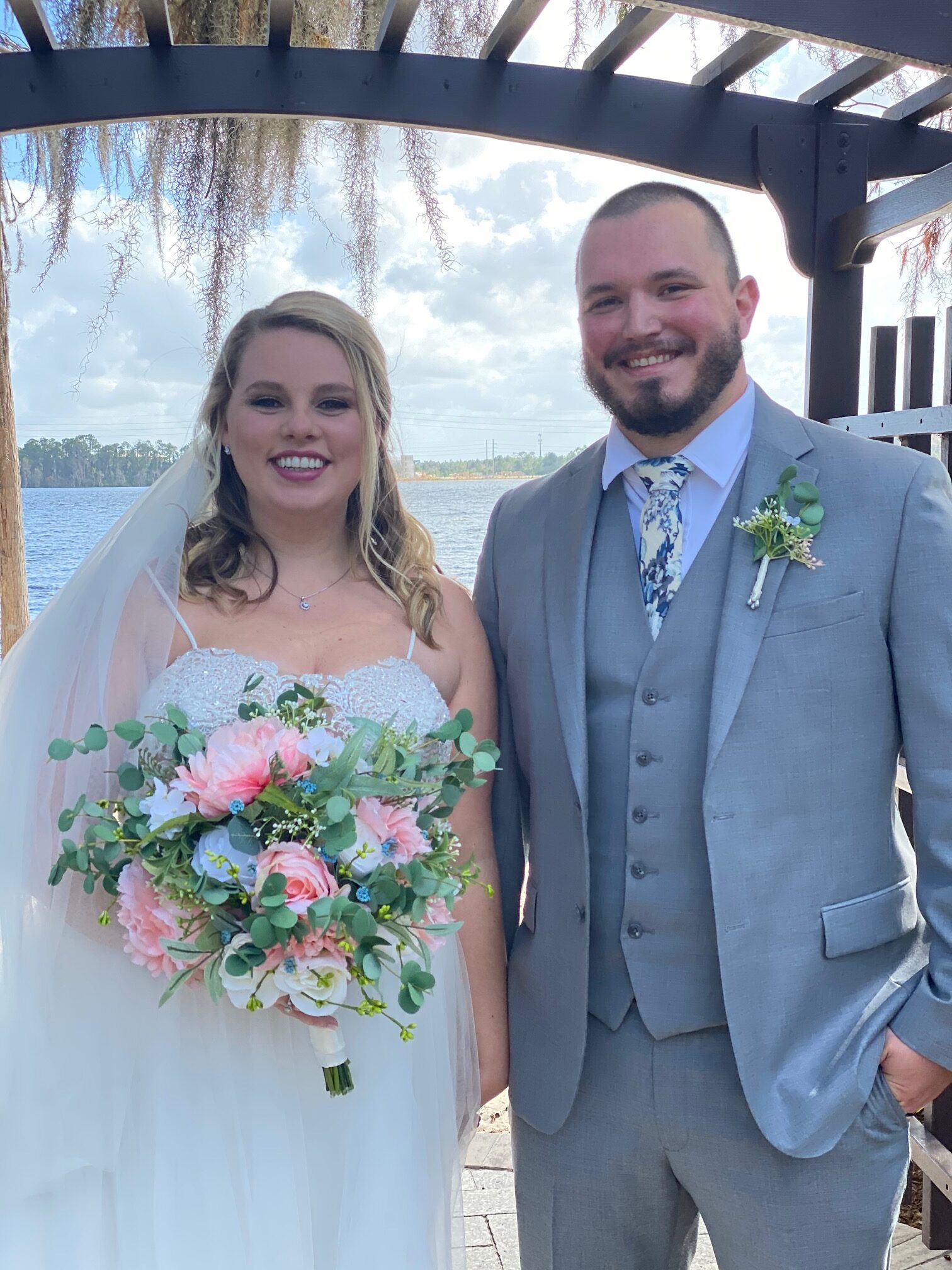 Tropical Oasis
Christen and Adam traveled from Indiana to come to Orlando, Florida and get married at the tropical oasis of Paradise Cove.  With amazing packages  you can see why hundreds of couples every year choose Paradise Cove for their wedding.
Jasmine with Paradise Cove made sure that this tropical oasis was all set for Adam and Christen's wedding day.  With white padded chairs facing the beach and ceremony sight, it was the perfect set up.

Amy with Blossoms Orlando made sure that you could feel the beauty of this tropical oasis even in the flowers that were selected for the arch decor, the bride's bouquet, and the groom's boutonniere.  

Rev. Glynn Ferguson, the owner of Sensational Ceremonies and an official Walt Disney World Officiant, worked with Adam and Christen to create a custom ceremony that really fit the two of them for their wedding in this tropical oasis.  Rev. Glynn asked the couple to each write to him and tell him why they love each other.  He would then incorporate that into the ceremony.

Christen wrote of Adam:  Adam has amazed me ever since we started dating. He has so much passion for everything he does and cares about, and that has included our relationship. It has felt like I have had the biggest supporter in my corner ever since we began dating. He cheers me on in everything I have worked for and accomplished. I have never once felt like his love for me was conditional or not the most important thing to him.  He supports me in all of my passions, even if he has to fake the interest. I have trusted him more soundly than anyone I have ever met, and I feel like a real team of when we are together.

Adam wrote of Christen:  I love Christen because every day that we've been together, she has made me a better person. I would not be who I am today if we hadn't have met and developed the relationship that we have now. She loves me for who I am, which I recognize would be difficult for the average person. That being said, she makes it so easy for me to fall in love with her daily. I truly can't imagine where'd I'd be without her and I'm thankful for every minute we've had together, and for every one we will have together for the rest of our lives.

Congratulations on your wedding in this tropical oasis.  We wish you happiness for a lifetime.