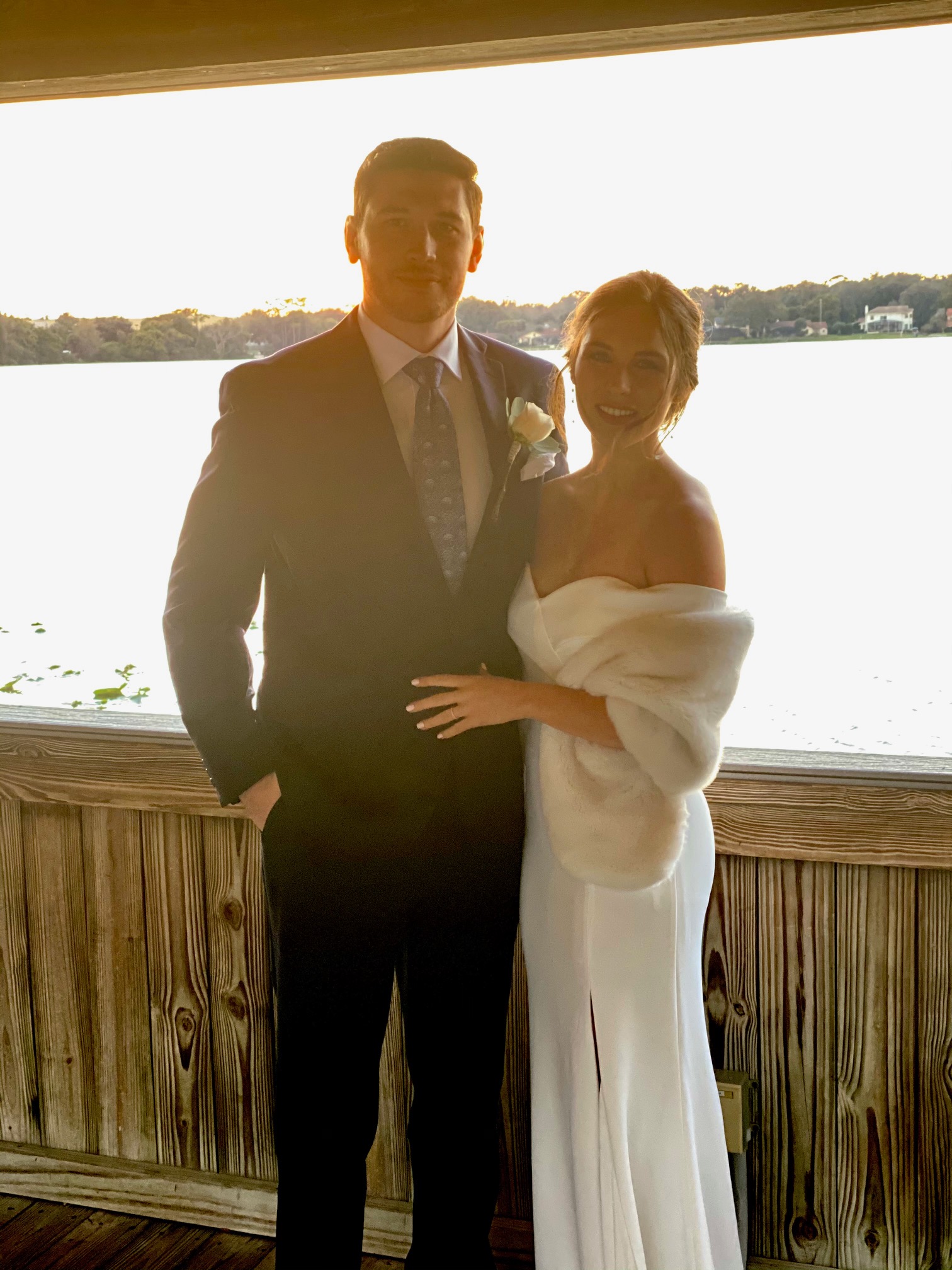 Winter Evening
Elizabeth, a resident in medical school and Travis, a wealth management consultant met while the two of them were in college.  They dated for seven years before Travis popped the question and the two of them decided to elope at Enzo's on the Lake in Longwood, Florida on this winter evening.
Just a handful of family members could make it to Florida this winter evening, with all of the restricted travel, but dozens logged in through Zoom and watched as Lis and Travis took their vows, exchanged rings, and became husband and wife at this lakeside venue.
On this brisk winter evening Liz donned a stole to ward off the chill in  the air, while Travis wore a dark suit.  They both looked amazing!

The Bouqs Co provided the beautiful bouquet and boutonniere of white roses and seeded eucalyptus.  Even with the cool air on this winter evening, everything looked amazing.

Alexandra Michele Photography captured all the festivities at Enzo's on the Lake. From the bride's entrance to the ceremony on the dock and finally the formal shots over the water.  There may have been a few goosebumps this winter evening, but it was beautiful.

Travis and Liz asked Rev. Glynn Ferguson, the owner of Sensational Ceremonies, an Orlando officiant, and an official Walt Disney World Wedding Officiant, to work with them on creating their custom ceremony for their winter evening wedding.  The beautiful ceremony was filled with both tears, laughter, and oh so personal.  Rev. Glynn asked the two of them to write and tell him why they love each other.
Liz wrote: To love Travis is to know his wit, fierce loyalty, and all the idiosyncrasies that one paragraph alone can't do justice – but I'll do my best.
When I first met Travis, I misjudged him. He was a handsome, tall, seemingly reserved wrestler for our college, and a year my senior. He had a wittiness and cheeky smile that made me nervous he might be trouble, or worse, that I might fall in love with him.
As soon as we met, it felt like Travis and I were cut from the same cloth. When Travis loves, he loves big. He hugs the people he cares for with an earnestness that makes you feel protected, yet at ease. He loves puns more than anyone I've ever met. He reminds me the importance of not ruminating over what others think and pausing when the weight of everything feels too heavy to carry.
I love the way Travis sees the world. He treats daily annoyances with humor and patience, even when it's my turn to take out the trash and we both know it. I've never doubted Travis' ability to someday be an incredible dad. Whatever litmus test kids have for knowing that a person has a gentle humor and kind soul, he passes with flying colors. I love the way his eyes crinkle when he belly laughs, and the obscure Jeopardy questions he always knows the answer to.Over the past 7 years, I've been lucky enough to be with Travis as he's grown into a man who is loving and puts others' needs before his own. He renewed my faith that love could be patient and resilient. If we're lucky enough to keep growing together until we're wrinkled and grey, the smartest decision I will have ever made is to choose Travis for the rest of my life.

Travis wrote:  I'd be remiss not to mention that Liz is the most beautiful woman I've ever seen. Her striking blue eyes with a golden ring around the pupil and a smile that lights up a room have captivated me since the moment I first saw Liz over 7 years ago, and she only gets more beautiful each day. Now, everyone please knock on wood that this doesn't happen, but I could go blind tomorrow and it wouldn't change a thing about the way I feel because what I truly love the most about Liz is who she is as a person. Liz is caring and selfless. She'll put everything on hold to help her friends or family or even stop what she's doing to hear an irrelevant story about a podcast I had been listening to just because I seem excited to tell her about it. Liz is witty and hilarious. Unfailingly, Liz makes me laugh each and every day. It is a wonderful feeling to know that when you're around somebody you'll be smiling, and that is exactly what I get to experience when I'm with Liz. Liz is incredibly intelligent. She can explain her medical studies to me in a way so that I understand something I have no business being able to understand or ace an entire category of "Jeopardy!" questions on any given night. Liz is adventurous and open to anything. She'll ask to go skydiving as a birthday gift or set our alarms for 6 am so we can get to Disney as soon as they open and ride every roller coaster as many times as we can handle. Liz challenges me to be better. When I met Liz, I was a 20 year old college kid whose diet was mostly chicken tenders and fries. Don't get me wrong, I still love chicken tenders, but I am the man that I am today because of my family and because I've had the privilege of growing alongside Liz for the last seven years. A privilege that I look forward to continuing to earn for the rest of my life. Everyday I try to be a better partner for Liz than I was the day before because that is what she deserves. Liz is the most impressive and amazing woman I've ever met and I love her with all my heart.
 Congratulations to the two of you!