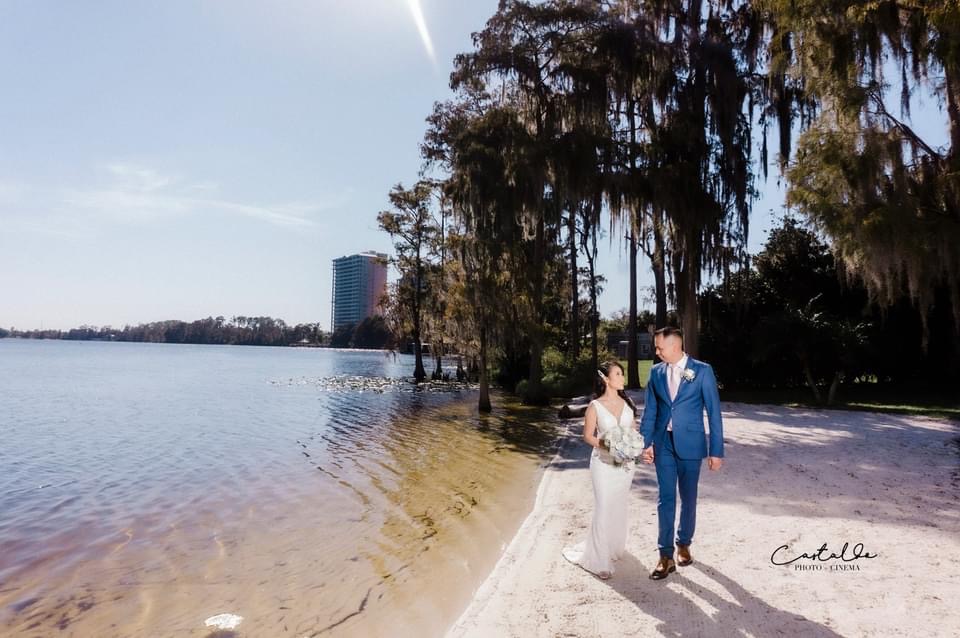 Beachside Ceremony
Even though Norlan and Jennifer lived in Orlando they really wanted to escape from the ordinary and have a beautiful beachside ceremony.  When the couple found Paradise Cove they found their perfect venue for their wedding.  There on the shore of Lake Bryan, lies this beautiful venue with towering Cypress trees and a white sandy beach. Working with Kayli at Paradise Cove was a dream. Even though the couple wanted something last minute and an escape from the ordinary, Kayli made sure the details were taken care of and that she helped them pull together a fantastic vendor team for their ceremony.  Debra with Atmospheres Floral and Decor took care of all the flowers for the couples wedding.  With white roses, blue hydrangeas, and baby's breath, it really was an escape from the ordinary.  Everything from the bride's bouquet and the groom's boutonniere to the arch decor followed that theme all the way through.Dominico with Castaldo Studios really made their ceremony an escape from the ordinary.  With his creative eye, he was able to capture the beachside wedding with just the right angle and softness that the couple desired for their wedding.  The photography was truly art!
Even with less than a week to plan a wedding, the couple worked with Rev. Glynn Ferguson, an Orando officiant and owner of Sensational Ceremonies to craft a custom ceremony that was an escape from the ordinary.  This beachside ceremony was heart-felt, sweet, and oh so personal.  Rev. Glynn asked them to each write and tell him why they love each other.
Jennifer wrote: I have so many reasons why I fell in love with my supladaaaa! First and foremost, He knows how to clean the house lol, (well,that's very important to me!) I love him for being my everything, my best friend, my happiness, my smile and my sunshine everyday. It's so difficult to trust a man from a foreign country but he shows me how. He always want to make sure that I'm always safe. I'm so thankful to God that I have him in my life to motivate me everyday because even I'm away from home and family is always there to be my rock everyday. His the man that I always so excited to see everytime that I'm home. I'm so happy that he is my first and last man in my life. Now he's gonna be my first priority.
Norlan wrote: There are so many reasons why I love you my beautiful supladaaaa! First, I love your pure essence and heart, I love that you love me unconditionally, with all my imperfections, with all the good and the bad I bring into your life. Second, I love your innocence and your big heart, because you show me many lessons about caring for humanity. You care so much about the people in need. Third, from the first day I saw you I felt something special in my heart, because I knew from that you were one of a kind and that I had found a treasure. That's why I'm thankful to God each and every day for blessing me with the most amazing woman I have ever met. Lastly you are everything that I want and everything that I need. You complete me and make me so happy to be here sharing my life with you mi amor! You are and will always be beautiful supladaaaa. I love you with everything in me. I can't wait to spend the rest of my life with you because you make me the happiest man on planet earth.
Congratulations to the two of you! We wish you happiness for a lifetime.