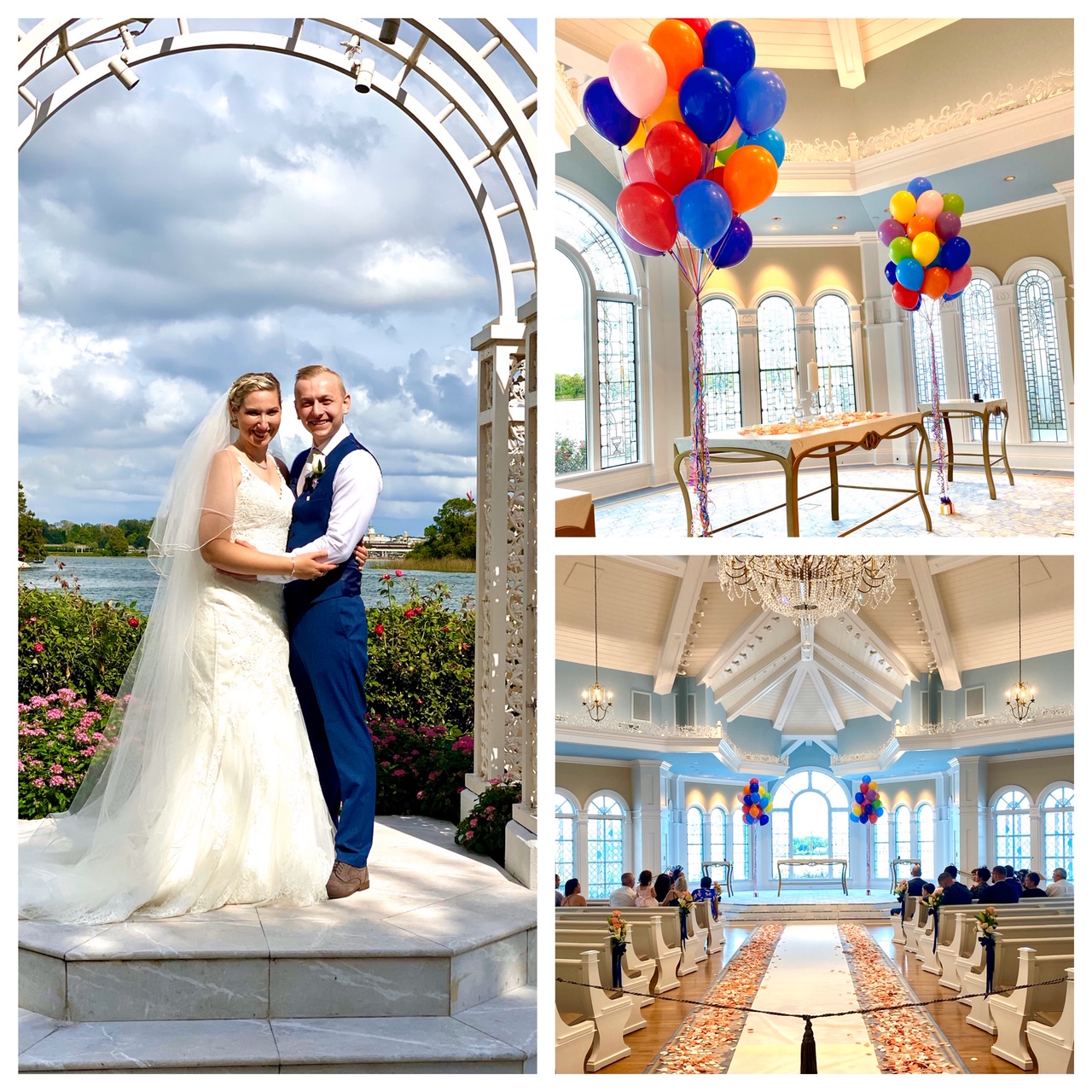 Storybook Destination Wedding
Their Story
Thomas and Sophie traveled from England to beautiful Orlando for the storybook destination wedding at Disney's Wedding Pavilion.  Located in the heart of Walt Disney World Sophie and Thomas felt as if they were right in the middle of their own fairytale. The couple loved the Disney movie "Up" and wanted to have some aspects of that theme throughout their wedding. 
Their Team
Alyssa, their Disney Fairytale Wedding Coordinator took them by the hand and helped them to plan every aspect of creating their storybook destination wedding.  From helping them find soda bottle top pins for the gentlemen to wear, to arranging with the Disney Florist to have brightly colored bouquets of balloons on either side of the alter space, she got it all covered.  Ali and Brittany with Disney Fine Art Photography worked their magic with the couple.  From capturing "getting ready" pictures of the ladies, and formal portraits on the staircase of Disney's Grand Floridian Resort on to the amazing photos of the ceremony, they captured it all.
Married by Mail acquired the couple's Florida Marriage License for them before they ever arrived on site. 
 Their Ceremony
Thomas and Sophie worked closely with Rev. Glynn Ferguson, an official Walt Disney World Officiant and owner of Sensational Ceremonies, to create a beautiful custom ceremony.  It was heart-felt, beautiful, and oh so personal. They wanted the feel of their storybook destination wedding to be personal and yet fun. Rev. Glynn asked the couple to write and tell him why they love each other.
Sophie wrote
Tom is very loving and protective not only to me but to our 3 dogs who he knows are a huge part of my life. As a family we have built an amazing home and life together that I cannot wait to continue and grow. He is supportive of my dreams in my career and would help me in anyway possible. He makes me feel like a princess even on lazy days, and there are many! I can't express how thankful I am to him and how much I absolutely adore him! Having so much in common makes me love him even more. I strongly feel we belong together and I want nothing more than to marry my best friend in our favorite place on Earth.
Thomas wrote
 Sophie is truly an incredible individual who I could not see myself living without. Our little family could not be any better than it is right now and that is all down to her loving presence. Sophie is so loving and caring, she looks out for us all and for that I will be forever grateful. Her beauty is not just in her appearance today but also on the inside with such a beautiful personality that I really do love. She is my shining light regardless of the obstacles we may face. I can always count on Sophie for her love and whole-hearted support. As always, Sophie is a true foundation in my life, an immovable object that gives me all I need to succeed in life. Her beautiful personality shines through in every walk of life, whether on cloud 9 or falling on hard times, her strength and personality makes me feel even our most aspiring ambitions are achievable. I truly believe I would not be standing here today where I am at this moment in life without the love and support Sophie brings to my life. To walk this path with anyone but Sophie would be an impossible task. It brings me real joy to look across into Sophie"s eyes and know what we have achieved together and can only imagine what amazing experiences the future holds for us both as we walk this path together forever. Sophie has bought real balance to my life and has truly made me believe in myself and us as a family. I can only hope and commit to do my upmost to reciprocate the incredible impact Sophie has had on my life. I would truly be lost without Sophie and her beautiful aura, I will forever love you and only wish for the greatest success in life. I will always be the first there standing by your side to support you. You are an inspiration to me and will always be my soul mate. Forever and always you'll be in my heart, I am with you till the end of time. Your Loving husband (to be) forever and always
What an incredible wedding for such an incredible couple!